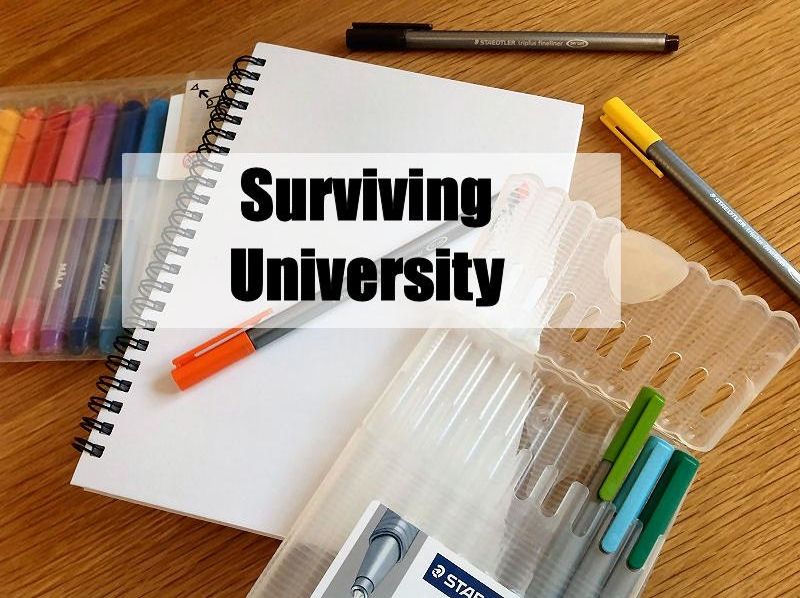 Last week the A Level results were released and it made me think back to the scary and daunting time when I was waiting for mine. Once receiving the grades I needed it then dawned on me I had to leave home.  University is a big moment in anyone's life and is something that I was equally happy and terrified about. I wanted to go to University because it's something I'd always planned to do and I wanted a degree but I really didn't want to leave my family and friends. I'm really close to my family and I'd known my best friends since I was 4 years old so it was going to be a massive change for me not to be around them all the time.
Admittedly, I found University hard, not because of the work but because of the environment but it did get easier over the four years I was there and it helped having my boyfriend with me too. We met when we were 16 and both ended up going to the same university so I did know at least one person but I found the below tips helped get me through too:
1) Home Comforts
Leaving home for the first time is very daunting so make sure you take lots of home comforts with you. It makes a big difference when you're surrounded by your own things and it will make you feel much more comfortable.
I decorated my walls with posters so they were more colourful, I had a bright pink bed spread, some teddies, photos and nick nacks that all reminded me of home. I had plenty of clothes and shoes etc too so I was well and truly surrounded by all my belongings!
2) Planning Trips Home or Visits
When I was at uni I hated being away from home, particularly when I was in halls but it really helped to know when I was going home. Every three weeks I would go home and every two my family would come down to see me so there was only ever one weekend I didn't see them.
it was much harder to see my friends because we had gone our separate ways around the country but texting and MSN messenger got us through until the holidays and reading weeks when we would be able to all meet up again.
3) Be Prepared
Knowledge is power so being prepared for University is key.  Make sure you read the University website carefully and any information they send you as you're often expected to send back forms and to have already purchased the books on your reading list before term starts. It's important to know any rules before getting there and getting to know your timetable too so prepare as much as you can before embarking on your new adventure!
Also have a think about what you'll need besides home comforts and things to help you study. For example, cutlery and plates etc are essentials whether you're in catering or non catering!
4) Interact with People
University is a much more enjoyable experience when you interact with people and make friends. Remember everyone is in the same boat too so prop your door open so it's easier to speak with people, attend as much as you can during freshers week and join some clubs and before you know it you'll be making friends.
Before I went to University I came across a forum where you could chat to people who lived in your halls or did your course before you got there. I met my best University friend Gemma this way and we've been friends ever since. We met up on our very first day and was so lovely to have had a chance to speak to someone before getting there. I can't remember the name of the website now as it was a few years ago but maybe it's still out there somewhere. Obviously it goes without saying to be careful when meeting people from the internet though.. and never give out your personal details online!
5) Work Life Balance
When you go to Uni, despite having to pay you'll soon realise not everyone is there to study.  It's really important to have work life balance but it's also imperative you don't get too carried away partying and make sure you study hard too. It's much easier to get the grade you want if you work hard from the start and and add up the marks as you go along rather taking the chilled approach and waiting until 2nd or 3rd year to get your head down and work.
6) Discounts
Being a student will entitle you to a lot of discounts so before shopping take a look online and invest in a NUS card. You'll get discounts on all sorts of products and it's definitely worth while!
7) Budget
No matter how old you are or what you're doing budgeting is important and this is no different when you're a student. Your student loan doesn't go very far by the time you take into account, rent, food and books let alone nights out, clothes and make-up so make sure you budget for each term so you're not left short.
8) Housing for Second Year
You'll be surprised how quickly people start looking for a house for the second and third years so make sure you know how things work at your University. At mine we started mid September and by Mid October the search had begun so extremely quickly considering people hadn't known each other for long. Of course there were people that waited longer than that but it's good to get into a group quickly so you're not left on your own and also so you have more houses to choose from.
9) Be Proactive
It's easier said than done but if you can be proactive at University and try to stay on top of the reading and your notes when it comes to exam time it will be much easier. You'll feel less pressured and stressed even if you've made a start on some of them.
10) Know Your Way Around
I'd be the first to say my sense of direction isn't the best but it's important to know your way around campus and possibly the nearby area. If you can take a trip there with friends or family first to become more familiar with it, it's a good idea and will make you feel more comfortable.
Don't forget to find out where the local supermarket is so you can buy food, the pharmacy and doctors as well as shopping center, restaurants and bars.
What do you think of my surviving uni tips?

Check out these great blogs by my lovely advertisers:
Pink Champagne: Hoad Shoes – An Independent Little Shoe Shop
Pink Panther: Beky Lou, MissLJBeauty, Dulcie's Beauty Blog, Peacock Beauty, A Scottish Lass, Topdraw Fashion, Delabelle's Beauty Blog, Lisahh-Jayne, 
Pink Pearl:, Scottish Stef's Nail, Oh Hello Mango, Tam Loves Tea, Mummy's Beauty Corner
To advertise with Kimberley's Beauty Blog find out more info here