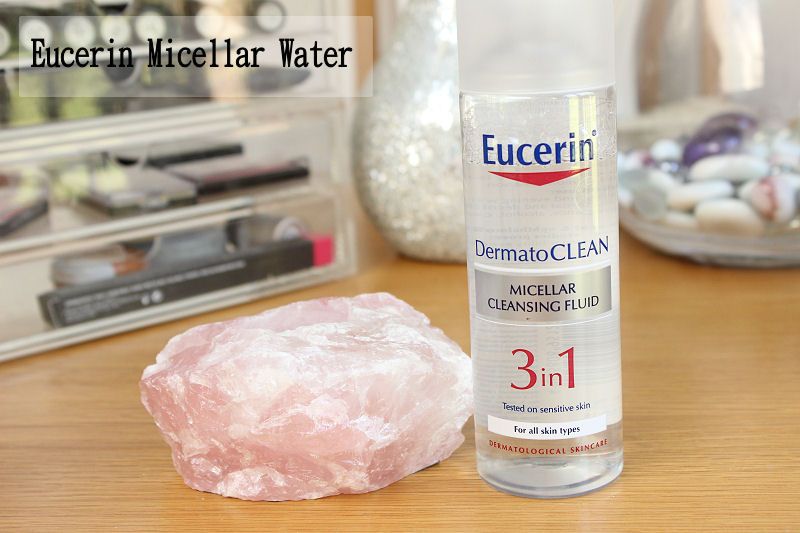 When it comes to removing makeup I only use two things, either a Cleansing Balm (the Emma Hardie one is my absolute favourite) or a Micellar Water. The most well known of the later is by Bioderma which every beauty blogger would have heard of if not tried and I must admit I love it, however, today's blog post features an alternative product that I am also passionate about.
Many brands have brought out similar products which haven't compared to Bioderma but then I tried the *Eucerin Dermato Clean Micellar Cleansing Fluid.  I hadn't actually tried any products by Eucerin before but my mum has used their moisturiser and has enjoyed using it for years so I was very optimistic when trying it for the first time.
The formula of the Eucrin Micellar Water is a clear liquid which is a multi purpose product as it can be used as a facial cleanser, eye makeup remover and toner. This is perfect for people who want to have a quick skin care regime as you get 3 in 1 with this product and I must say I have found it very handy!
I use my Miceller Water just once a day which is only at night to remove my makeup and any dirt and grime from the day. After using just two large cotton pads my face is left feeling clean and refreshed and although I've got sensitive skin I haven't had any reaction to this product which is great. 
The packaging of the Eucerin Micellar water is a simple transparent bottle that is easy to store and dispense. As it's transparent you can also see exactly how much you have left which is perfect because there's nothing worse than running short of a product you really like and having to wait while you replenish your stock.
I've been really impressed by the Eucerin Micellar Water. It does a great job at removing makeup, works well with my sensitive skin and leaves my skin feeling fresh and clear. I think it definitely compares to Bioderma in terms of quality but it has a lower price tag so is much better value for money.
If you want to give the Eucerin Micellar Water a try you can buy it from the Escentual website for just £7.19 as it is currently on offer. Escentual is a brilliant place to shop online for beauty essentials as they have such a large range available so if you haven't popped by there before definitely check it out.
What is your favourite product for removing makeup?

Check out these great blogs by my lovely advertisers:
Pink Champagne: Hoad Shoes – An Independent Little Shoe Shop
Pink Panther: Beky Lou, MissLJBeauty, Dulcie's Beauty Blog, Peacock Beauty, A Scottish Lass, Topdraw Fashion, Delabelle's Beauty Blog, Lisahh-Jayne, 
Pink Pearl:, Scottish Stef's Nail, Oh Hello Mango, Tam Loves Tea, Mummy's Beauty Corner
To advertise with Kimberley's Beauty Blog find out more info here