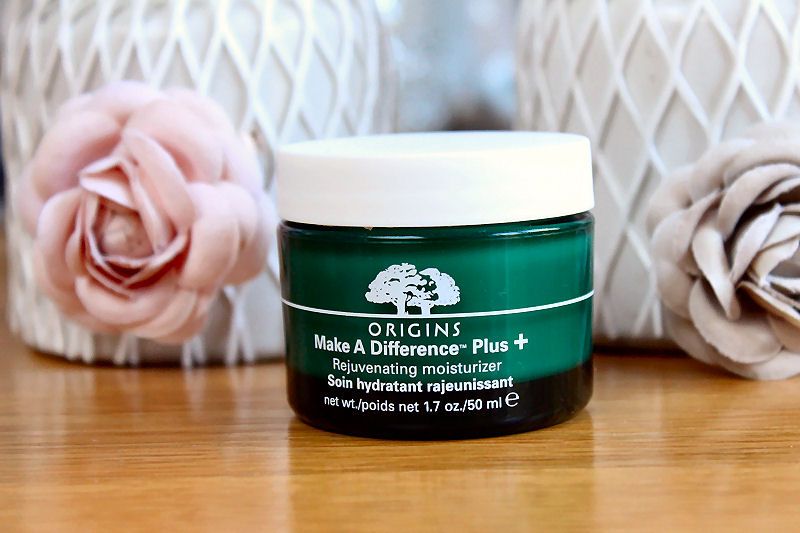 You may or may not know, a few months ago I was on the hunt for a new day time moisturiser as I strangely become allergic to my trusty Clinique one so had to change. It was odd because I'd been using it for a year or more and gone through two whole pots of it before it started to make my skin feel sore and a little tingly. 
I stopped using the Clinique moisturiser after working out that was the cause and was on the market for a new one to try. I tested out a couple before discovering the Origins Make a Difference moisturiser which actually kind of happened by accident. I was shopping in London one day and headed to the Origins counter at Selfridges to purchase the Origins Drink Up Overnight Facemask (it is amazing!) and asked the lovely lady on the counter for a recommendation for a day cream that is suitable for dry skin. I had never really suffered with dry skin before as it had always been combination/normal up until this point but the allergic reaction, mixture of different skin care plus the change in the weather had taken it's toll leaving my skin drier than ever.
The lady on the Selfridges gave me a sample of the Origins Make a Difference day moisturiser which I managed to get a fair few uses out of to try and gauge how it was working. Needless to say I was impressed even after that short time so decided to purchase the full size.
I really like this moisturiser because the texture isn't too thick or thin so it glides well over my skin and although the texture is quite wet it absorbs quickly meaning I can apply my makeup soon afterwards. This is important to me because before work I don't have much to wait around as I literally get up at the last possible moment I can!
The Origins Make a Difference Moisturiser contains Rose of Jericho plus a Lychee and Watermelon hydra-sustain complex that looks to add moisture to dry, dehydrated skin. If I'm honest, when I read this on the back of the packaging although it sounded good it didn't really mean much to me as I have no idea what a 'hydra-sustain complex' is but without doubt this moisturiser has helped combat my dry skin and return it back to its normal state. Even after just a handful of uses I saw a big difference and this combined with the Drink Up face mask I use 1-2 times a week has really helped as my skin now looks nourished, smooth and hydrated.
Make a difference is a really beautiful moisturiser that has a very subtle scent and a smooth, light formula that hydrates the skin without leaving it feeling heavy or greasy. It is most suited to people with combination or dry skin and is now definitely part of my every day skin care regime. I don't plan on looking any further for a replacement for my Clinique moisturiser as this one ticks all the boxes and for now seems to be doing the job perfectly!
If you want to buy the Origins Make a Difference Moisturiser you can buy it from the Origins website for £34.50. This price may seem to be a little on the high side but you barely need to use any of the product to cover your whole face so it will last a long time.
What do you think of this moisturiser?

Check out these great blogs by my lovely advertisers:
Pink Champagne: Hoad Shoes – An Independent Little Shoe Shop
Pink Panther: Beky Lou, MissLJBeauty, Dulcie's Beauty Blog, Peacock Beauty, A Scottish Lass, Topdraw Fashion, Delabelle's Beauty Blog, Lisahh-Jayne, 
Pink Pearl:, Scottish Stef's Nail, Oh Hello Mango, Tam Loves Tea, Mummy's Beauty Corner
To advertise with Kimberley's Beauty Blog find out more info here