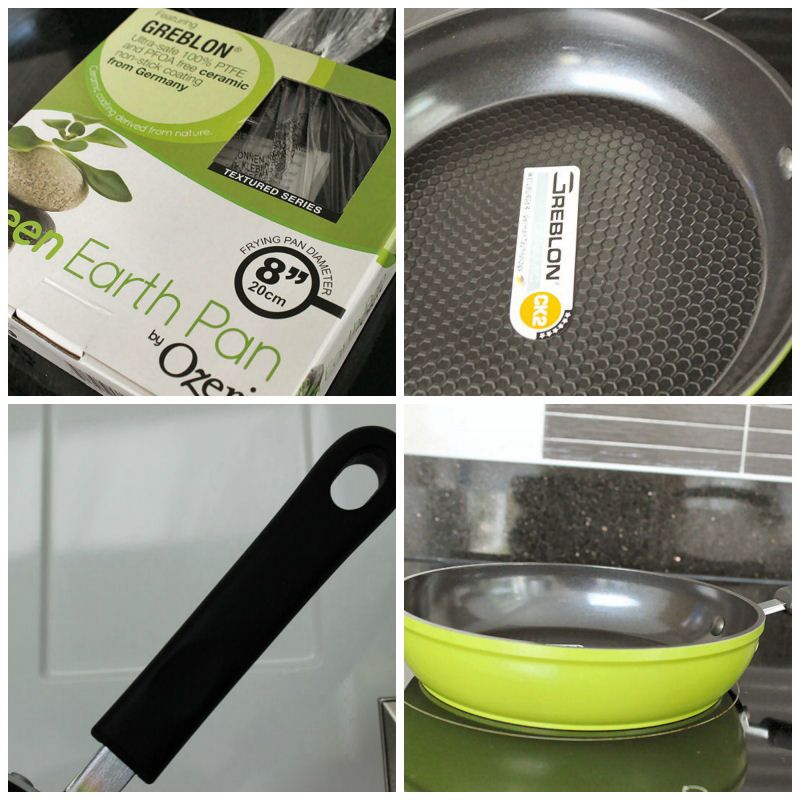 Hello Everyone! Today's post is a lifestyle one and is linked to one of my favourite things to do, cooking. I've enjoyed cooking from a young age when I used to help my mum bake and it's something I find really relaxing to do. I've even got a professional cooking qualification with Pru Leiths London School of Food and Wine which I gained whilst in the 6th form at school.
Now that I'm a little older and living with my boyfriend we take turns cooking or often cook meals together and enjoy creating new dishes or to making our favourites. Sometimes after work it can be a bit of a chore to come in and cook a meal from scratch when we're tired but it's something that is important to us because we like to make sure we eat healthy meals and avoid takeaways and fast food as often as we can. 
Being a fan of cooking we often buy new things for the kitchen and the latest edition is the *Ozeri Green Earth Pan. This is a 8″/20cm frying pan that has a non stick coating and is perfect for cooking meals for 1-2 people. The pan has an elevated texture which creates air pockets to distribute the heat evenly across the pan which means the food cooks evenly and also heats up very quickly so you're not waiting around for very long. This is perfect for those times when you want to cook a quick, simple meal. The pan is also super easy to clean, is made from durable scratch-resist ceramic and has a really comfortable handle.
Both my boyfriend and I have really enjoyed using this pan and have found it is particularly good for cooking omelettes as it is the perfect size. It is also suitable for electric and induction hobs so is perfect for us! Priced at only £23.99 this pan is great value for money and a great addition to our cooking utensils! It is also available in two other sizes, 26cm and 30 cm on Amazon.
What do you think of the Green Earth Pan? What is your favourite meal to cook?

Check out these great blogs by my lovely advertisers:
Pink Champagne: Hoad Shoes – An Independent Little Shoe Shop
Pink Panther: Beky Lou, MissLJBeauty, Dulcie's Beauty Blog, Peacock Beauty, A Scottish Lass, Topdraw Fashion, Delabelle's Beauty Blog, Lisahh-Jayne, 
Pink Pearl:, Scottish Stef's Nail, Oh Hello Mango, Tam Loves Tea, Mummy's Beauty Corner
To advertise with Kimberley's Beauty Blog find out more info here