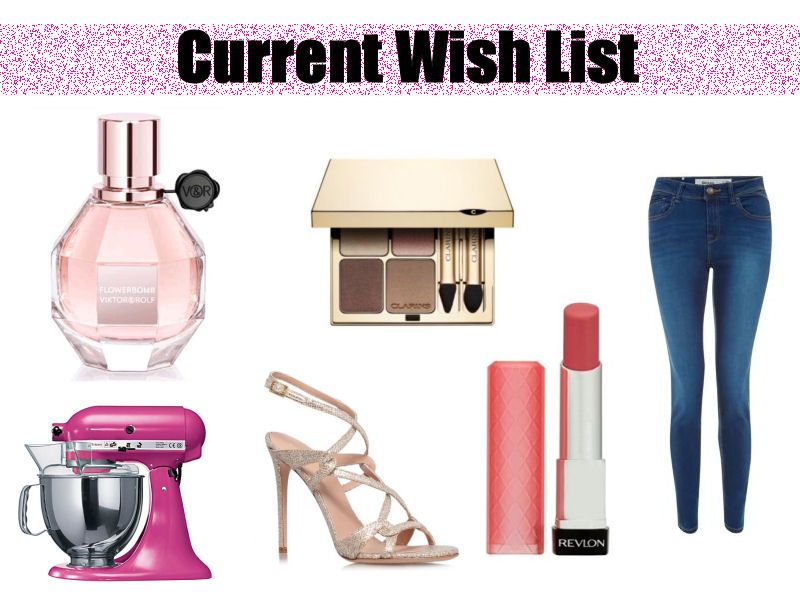 Hello Everyone! It's been a while since I published a wish list so I thought I would send share of the items I'm currently lusting after. This time my list isn't specific to beauty or fashion and is instead a real mixture of things.. here goes….
Viktor & Rolf Flowerbomb Fragrance | The Fragrance Shop | £64.50
I first smelt this fragrance at an event with Debenhams last year and loved it. It's a really feminine, girly scent that is sweet and slightly floral too. From what I remember it would be perfect to wear during both the day and evening plus the packaging is gorgeous. This is definitely a fragrance I would love to add to my collection!
Faded Skinny Jeans | New Look | £22.99
Despite having a ridiculous amount of jeans in my wardrobe not all of them fit as well as I'd like so I'm after a new pair. I've tried New Look skinny jeans before and been impressed by them so I'd like to add this gorgeous dark faded pair to my collection in time for Autumn/Winter. As the weather in the UK has completely changed (Summer is well and truly over) I will definitely be getting a lot of wear out of them!
Kitchen Aid | Selfridges | £429
I love baking as I find it relaxing and enjoy creating and sharing different sweet treats with my friends and family. One key thing missing from my kitchen, however, is a kitchen aid which would make my life a lot easier. At the moment whenever I bake I do it all by hand which is much more time consuming so I'd love to have one of these. They are available in so many gorgeous colours too, particularly the deep and light pinks.
Clarins Eye Quartet Mineral Palette | Boots | £32.00
One of my favourite make-up products are eyeshadow palettes because you can create so many different looks with them plus they are easy to store and travel with. I much prefer buying a palette that has a few shades that work well together than have lots of loose shades floating around my make-up drawer and when I spotted this beauty on Beky Lou's Blog it was a must to be added on my wish list. The colours all look gorgeous and I think they would work really well with my blue eyes and brown hair.
Maxy Shoe | Kurt Geiger | £295
Since spotting a similar pair of Rose Gold strappy sandles in Kurt Geiger not so long ago I have thought about them ever since and would love to add something similar to my shoe collection. Rose gold is such a pretty shade and works really well with a multitude of other colours and outfits so you could easily get a lot of wear out of them. I also love how they are different from your classic gold or silver shoe.
Lip Butter in Strawberry Shortcake | Revlon | £5.99
When the Revlon lip butters were first launched I gave into the hype and purchased a couple which I have really enjoyed using ever since (besides the one that melted.. oops). As they are so comfortable to wear and hydrating to the lips I'd love to add 1-2 more to my collection and the one I'd most like is Strawberry Shortcake as it looks like a really easy to wear, pretty shade.
What do you think of my wish list? 

Check out these great blogs by my lovely advertisers:
Pink Champagne: Hoad Shoes – An Independent Little Shoe Shop
Pink Panther: Beky Lou, MissLJBeauty, Dulcie's Beauty Blog, Peacock Beauty, A Scottish Lass, Topdraw Fashion, Delabelle's Beauty Blog, Lisahh-Jayne, 
Pink Pearl:, Scottish Stef's Nail, Oh Hello Mango, Tam Loves Tea, Mummy's Beauty Corner
To advertise with Kimberley's Beauty Blog find out more info here