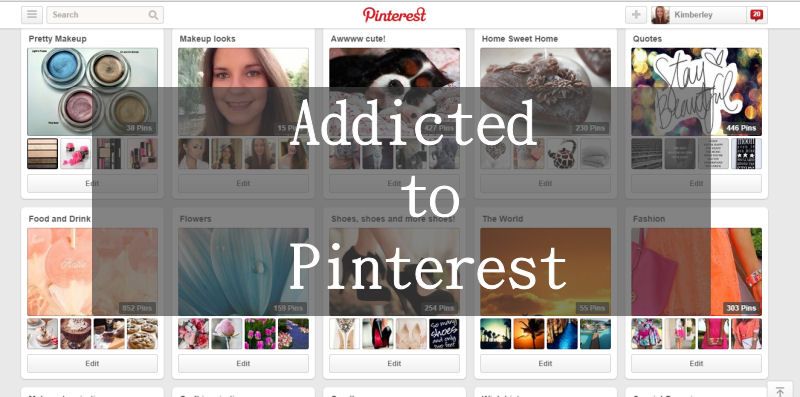 I have a confession… I'm addicted to Pinterest!
Pinterest is basically a huge photo storage site where you can either upload your own photos or search for other people's. You have your own profile where you can create your own boards for different genres, for example, shoes, fashion, makeup, wish lists etc and then whenever you see a picture you like you simply pin it to the relative board. The concept is brilliant because it means you can keep everything in one place and drool over an endless number of pretty things! 
If you have never heard of Pinterest you are definitely missing out. I've been a member for around 18 months but only used it properly in the last six by creating lots of different boards to group the pictures I love. Like the post says.. I'm definitely addicted! I go on Pinterest at least once a day (oopsy) and have 109 boards and counting….
I'm finding Pinterest particularly good for getting wedding inspiration as well as new makeup and hair looks. There are literally endless photo's to go through in the perfect world of Pinterest and I will definitely spend some time trying to re-create them.
If you want to check out my Pinterest page and follow me you can here 🙂
What do you think of Pinterest?

Check out these great blogs by my lovely advertisers:
Pink Champagne: Hoad Shoes – An Independent Little Shoe Shop
Pink Panther: Beky Lou, MissLJBeauty, Dulcie's Beauty Blog, Peacock Beauty, A Scottish Lass, Topdraw Fashion, Delabelle's Beauty Blog, Lisahh-Jayne, 
Pink Pearl:, Scottish Stef's Nail, Oh Hello Mango, Tam Loves Tea, Mummy's Beauty Corner
To advertise with Kimberley's Beauty Blog find out more info here