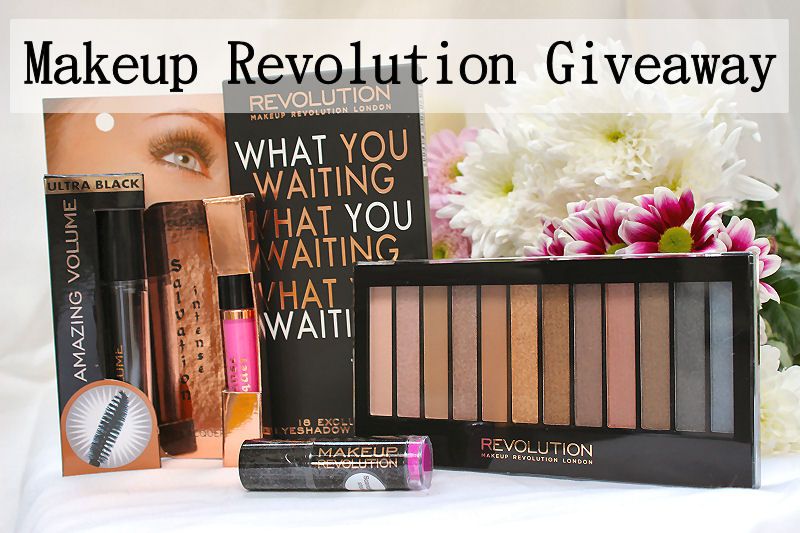 Hello Beauties! It has been a while since I ran a giveaway and to celebrate my recent engagement I thought I'd hold another one. This time is a massive Makeup Revolution giveaway because I am absolutely loving their products at the moment. The company have taken the beauty world by storm and offer a huge array of products at incredible prices which are often dupes for high end products.
You may have read a few posts on my blog where I have reviewed Makeup Revolution products and see me rave about them so I'm very excited to share those same products here! If you want to check out my haul post you can read it here and other reviews can be found by using the search option in my right hand side bar or the archive list. 
Makeup Revolution have kindly given me another set of all the fabulous products I tried so I can share them with one lucky reader! They include:
What You Waiting For Salvation PaletteScandalous Lipstick in CrimeAmazing Volume MascaraRedemption Iconic 1 PaletteSalvation Intense Lip Lacquer in Give You All My Love

For your chance to win this amazing selection of Makeup Revolution products please enter using the Rafflecopter below. There are a couple of mandatory options but most of them are optional for additional entries.. the more you enter the bigger your chance to win!
a Rafflecopter giveaway//widget.rafflecopter.com/load.js
mportant Information
– The giveaway will run from 23rd August 2014 – 25th Oct 2014 and is open internationally.
– The winner will be emailed and/or announced in a blog post. The winner will have 28 days to claim their prize.  If I do not hear from them within this time frame a new winner will be picked. If the winner has not entered all of the entries they have claimed to, all of their entries will be discounted and a new winner will be picked.
– If you are under the age of 18 please seek parental permission before entering.
– I will not be held liable for any allergic reactions you may have to the products.
– The prize will be posted 2nd Class standard delivery to the UK/untracked internationally. I will not be liable for any loss or damage but will make sure the prize is packaged well.  If you want to pay the additional fee for recorded delivery you are welcome to do so.

What product in the selection above would you most like to try?

Check out these great blogs by my lovely advertisers:
Pink Champagne: Hoad Shoes – An Independent Little Shoe Shop
Pink Panther: Beky Lou, MissLJBeauty, Dulcie's Beauty Blog,, A Scottish Lass, Topdraw Fashion, Lisahh-Jayne, 
Pink Pearl:, Scottish Stef's Nail, Oh Hello Mango, Tam Loves Tea, 
To advertise with Kimberley's Beauty Blog find out more info here