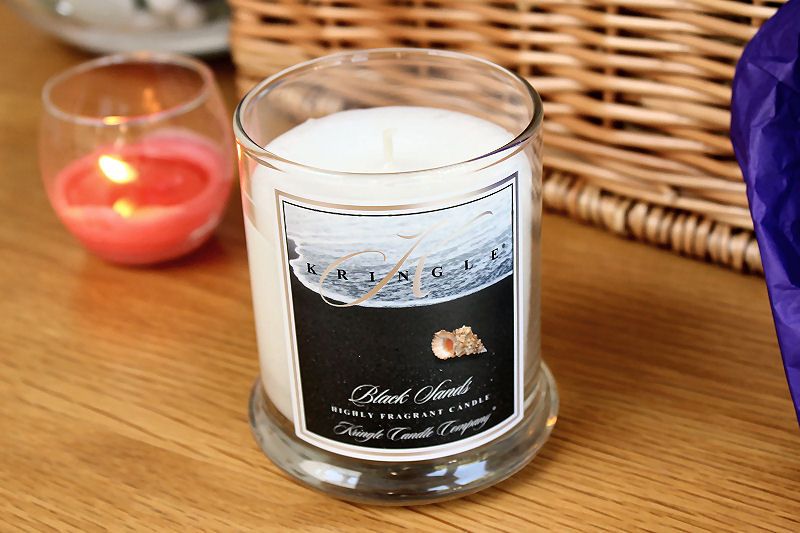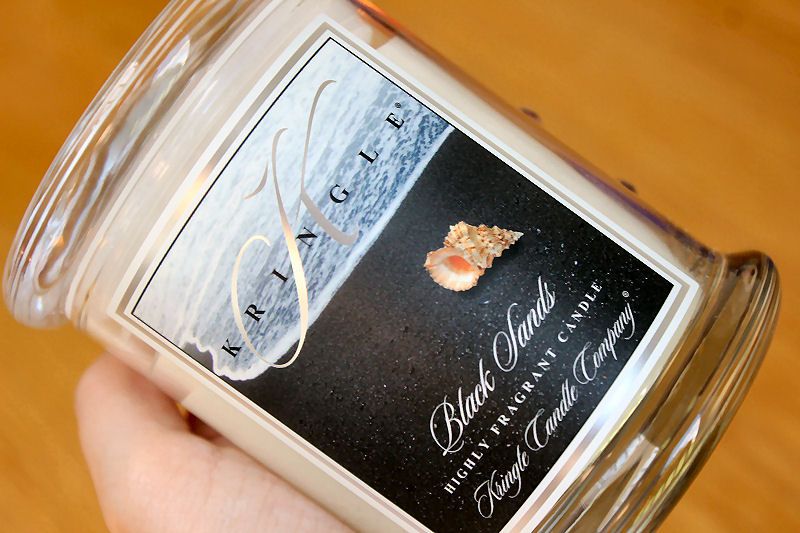 Today I have a super exciting post for all candle fans out there because it features a newly discovered brand that goes by the name of the Kringle Candle Company. This isn't a widely named brand but the range of candles they offer is amazing and the packaging is equally is gorgeous. You may also be surprised to hear that this company was actually created by the founder of Yankee Candle and whilst you may spot some similarities between the two, the Kringle candles definitely do have a unique feel about them.
Being a big fan of candles I was really excited when I came across the Kringle Candle Company on Twitter and immediately headed to their website to take a peak. I was shocked to see the huge range of candles they offer in a multitude of sizes and colours and could quite easily have spent a small fortune filling up my shopping cart it delicious sounding fragrances.
The candle I will be sharing with you today is called *Black Sands which has a really beautiful scent. It's fresh and clean so reminds me of clean Laundry but with a hidden depth of coconut, spices and slightly floral tones too. It's really unusual but I like it and as the scent is strong shortly after the candle is lit the whole house is filled with the gorgeous fragrance which is perfect.
Black Sands is available in a variety of candle styles and size but the one I have is a classic glass jar in the size medium. I love the elegance of the jar and I think I may actually prefer it to Yankee Candle as it isn't quite so bulky although I haven't quite made up my mind. Priced at £15.99 I think this candle is brilliant value for money considering the burning time is 50-70 hours and the scent strong and powerful without being too much.
I own quite a few Kringle Candles so although this is the first post featuring this brand it most definitely will not be the last so watch this space if you're interested in hearing more about the styles and scents I have tried. If you haven't tried Kringle Candles already I would definitely recommend them!
You can buy the Black Sands candle from the Kringle Candle Company website for £15.99.
What do you think of this Kringle Candle?

Check out these great blogs by my lovely advertisers:
Pink Champagne: Hoad Shoes – An Independent Little Shoe Shop
Pink Panther: Beky Lou, MissLJBeauty, Dulcie's Beauty Blog, Peacock Beauty, A Scottish Lass, Topdraw Fashion, Delabelle's Beauty Blog, Lisahh-Jayne, 
Pink Pearl:, Scottish Stef's Nail, Oh Hello Mango, Tam Loves Tea, Mummy's Beauty Corner
To advertise with Kimberley's Beauty Blog find out more info here