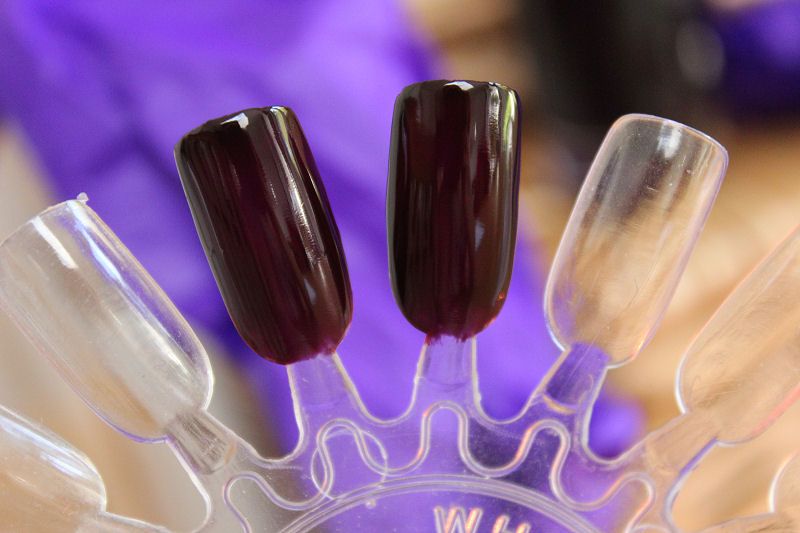 I recently attended the W7 Christmas Launch event where we had the opportunity to view lots of amazing products as well as have a play around with a large array of nail polishes. I had tried W7 polishes before and was already a big fan (read my review of Debris here) so as you can imagine this event was a lot of fun! 
We were each given a colour wheel and could paint it in any way we liked using the batch of nail polishes in front of us and the pretty glitters. When it comes to nail polishes I tend to stick to the same tones which are pinks, berries or nudes as I find they go with my outfits more. I particularly like the latter two as I find them much easier to wear at work as they tend not to be as bright although I do like to mix things up from time to time.
One of the stand out nail polishes for me was called *Black Cherry which in the bottle looks very dark, black in fact but when you can apply it you can see there's a lot more to it than that. After the first layer it has a red or purple tinge to it depending on the light and the depth of this colour and the black deepens the more layers you add. In total it needs 2-3 to get a completely opaque shade that is perfect to wear during the Autumn and Winter months. The formula isn't too thick or thin so glides over the nails perfectly without going streaky and remains smooth so you can achieve a flawless finish. As for the staying time? When combined with a base and top coat it lasted around 4-5 days chip free which isn't bad considering the tiny price tag!
Once again I have been very impressed by the products W7 have to offer and I will definitely be investing in more of their polishes. The only downside is they aren't more widely available.. I'd love to see them in Boots or Superdrug!
If you want to buy this Black Cherry polish you can find it at Amazon for £3.93 they also often appear on Fragrance Direct!
What do you think of the W7 Black Cherry nail polish?

Check out these great blogs by my lovely advertisers:
Pink Champagne: Hoad Shoes – An Independent Little Shoe Shop
Pink Panther: Beky Lou, MissLJBeauty, Dulcie's Beauty Blog, Peacock Beauty, A Scottish Lass, Topdraw Fashion, Delabelle's Beauty Blog, Lisahh-Jayne, 
Pink Pearl:, Scottish Stef's Nail, Oh Hello Mango, Tam Loves Tea, Mummy's Beauty Corner
To advertise with Kimberley's Beauty Blog find out more info here