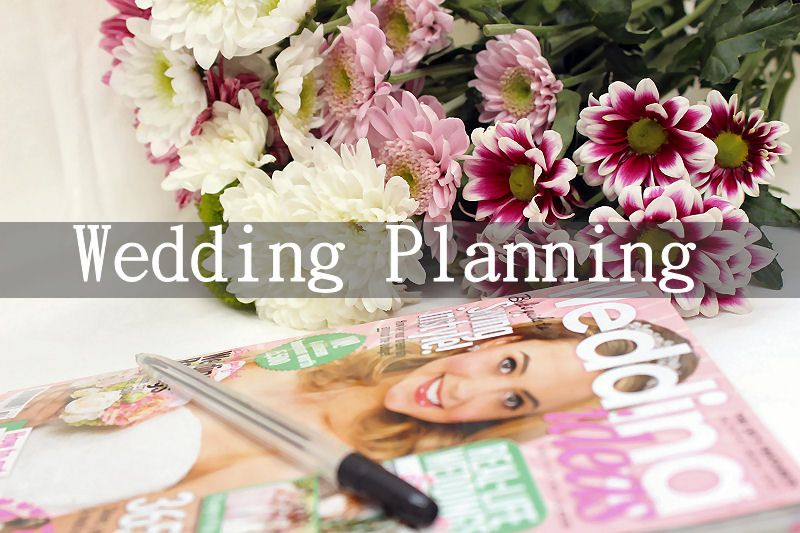 Good Morning Beauties! As I recently got engaged I'm very excited about wedding planning and have already made a start. This means over the next year there will the occasional wedding related post popping up so I can share some things with you. I won't go into fine details of exactly what I have booked because I want some things to be a surprise and my friends read my blog but I will definitely be writing about my experience, stages and a sneaky peak into some of our choices for our special day.
Today's post is all about wedding planning and where to start.  Obviously I'm no expert as it's all new and pretty overwhelming so I'm not saying this is the best way to do things it's just our way of doing it! 
I've been with my Fiance for ten years so we're not looking to have a long engagement. Therefore if we can find venues you like that are available we plan to get married in the Summer of 2015. That's extremely exciting but at the same time daunting because we actually have less than a year to plan everything and believe me, there's a lot more to think about than you realise!
As my Fiance and I have been together for so long we've spoken a lot about our wedding so we already had some ideas before he actually proposed. Back then it felt like we had a very good idea of what we wanted and it was just a matter of putting things into place and booking them but how wrong we were! Now we're engaged and it's all real it's much harder to make decisions on things as I know we will be committed to them so need to be sure we're completely happy with the choices we're making. There's also a lot more to think about than I originally thought. In my head I knew we had to book venues, flowers, a photographer, choose bridesmaids, ushers and a best man as well as decide on hairstyles etc and the all important wedding dress but when you put it down on paper the list is endless!
These are the first steps we have taken to plan our wedding:
Inspiration
Something that I have done for a while is to look on Pinterest to get wedding inspiration. I have my own board where I've got lots of pins of everything you can imagine and I refer to it often. I'm really glad I started it ages ago as it's given me lots of ideas already.. if anything too many!
I've also bought a couple of wedding magazines which are fun to look at because everything is composed in one place. I will definitely get a few more of these but if i'm honest I was completely shocked at the price so I won't be purchasing too many! Spending £6.50 on a thin magazine is a lot more than I'm willing to pay!
The Internet of course also has a limitless amount of wedding websites available so I have been making good use of those over the past few weeks. I don't find them as good as using Pinterest or reading a magazine as it's more time consuming to find things that suit my particular taste but the Internet is extremely useful when hunting for specific things such as venues and local photographers etc
Last weekend my Fiance and I also went to our first wedding fair which was fun and interesting. It was nice to able to talk to people which is really important because you don't want someone involved in your special day that you don't connect with. We learnt not only what we definitely wanted at our wedding but also some companies to avoid whom we felt aren't quite right for us.
Get Organised
I'm a very organised person, sometimes too organised but when it comes to planning a wedding that's a good thing! We have a spreadsheet that my Fiance started for costs so we can work out our budget and manage our spending and I've extended it to include a mood board, contact list and more. This way we have everything we need in one place and can easily update it when we need to which will hopefully mean it will be easier to stay on top of things.
Guest List
I've learnt that one of the first things you must do when wedding planning is to write up a guest list so you have a rough idea of numbers because you will be asked a lot. This also determines what size venue you need for the ceremony, wedding breakfast and evening reception. 
This is when it gets difficult because it all becomes a big guessing game as obviously until you get RSVP's to your invitations far down the line you actually have no idea how many people are actually going to attend. This can make it hard when deciding on a venue because obviously you don't want to book anything too small but equally nothing too big that will look empty if a lot of people can't come.
Venues
Now that we've done all of the above the hunt is on to find a wedding venue for both our ceremony and wedding breakfast/evening reception. The former has been pretty easy because we've always known we have wanted a church wedding and possible places but the evening reception is far harder. It is overwhelming how many things you have to think about! For example, distance from the church, is there accommodation nearby, size, is it suitable for all members of your friends and family no matter their age? What is the food like? Do they arrange decorations or do you have to arrange everything? The list goes on and on…
We've looked at a few places but unfortunately are yet to find 'the one' so the hunt is still on…..
That's all for my initial wedding planning post but as things progress there will definitely be more. Meanwhile we will continue looking for a venue.. wish us luck!
Do you have any wedding planning tips? What would your dream wedding be like?!

Check out these great blogs by my lovely advertisers:
Pink Champagne: Hoad Shoes – An Independent Little Shoe Shop
Pink Panther: Beky Lou, MissLJBeauty, Dulcie's Beauty Blog, Peacock Beauty, A Scottish Lass, Topdraw Fashion, Delabelle's Beauty Blog, Lisahh-Jayne, 
Pink Pearl:, Scottish Stef's Nail, Oh Hello Mango, Tam Loves Tea, Mummy's Beauty Corner
To advertise with Kimberley's Beauty Blog find out more info here