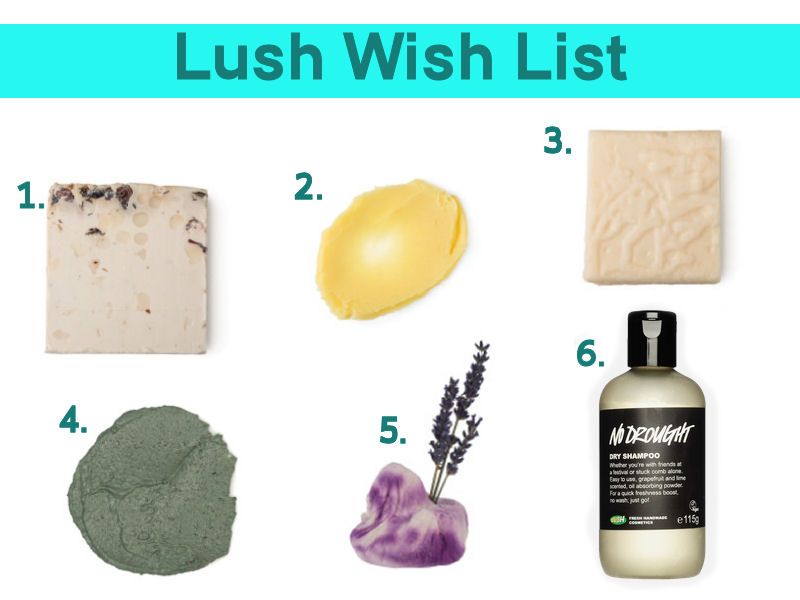 I'm a huge fan of Lush and have been for several years, however, there are still lots of products I am yet to try. After speaking with my bestie about the products she recently bought on a shopping trip it got me thinking about the ones I would like to try so I decided to pop them into the wish list so I won't forget them and also because I love to share these kinds of posts with you!
So let's get started on my Lush wish list!
1. Sultana of Soap | £3.40 per 100g
I love Lush soaps, my favourite being Honey I Shrunk the Kids because I love the scent. One I've always had my eye on though is the Sultana one as it smells nice and looks like it would be very creamy and nourishing for my skin.
2.Shine So Bright | £4.50 per 10g
Unfortunately my hair suffers from getting split ends due to the length and different styling I do on it every day. I'm trying to limit the use of elastic bands and straightening to help reduce the number I get but it's impossible to completely prevent them so I'm on the look out for products that can help stop them from getting any worse. This is when I came across Shine So Bright, a balm made from coconut oil, almond oil and shea butter that can be used on the dry ends of the hair to minimise the damage from split ends and prevent any more from appearing.
3. Big Solid Conditioner | £9.00 per 100g
I've tried various shampoo's from Lush before, my current one being Lush Trichomania but never a conditioner which I know is surprising. The one I spotted when I was last in store was Big Solid Conditioner as it looked like it may smell like coconut, a scent I love. After a closer look a discovered it doesn't but it does include lots of lovely ingredients for the hair including coarse sea salt to soften and volumise the hair, lemon and lime to add shine and toothed wrack seaweed to strengthen and revitalise.  With this combination of products I'm hoping my hair will be left nourished and healthy.
4. Love Lettuce Face Mask | £6.25 per 75g
I've tried a few face masks from Lush before and have always been impressed so I definitely want to get into trying more. The latest I have my eye on is Love Lettuce which contains almond shells for exfoliating, calming french lavender, almond and honey oil as well as agar seaweed gel. The combination sounds like it would apply nicely to the skin and exfoliate whilst soothing the skin and helping balance the skins sebum production.
5. French Kiss Bubble Bar | £4.25 each
A few months ago my bestie treated me to the French Kiss Bubble Bar as pick me up as I was going through a stressful time and I loved it. It has a gorgeous lavender scent which is very relaxing and perfect to add to the bath after a long, tiring day. Being a bubble bar, you also get several uses out of French Kiss which is even better!
It's strange to think I only discovered dry shampoo a few years ago but now I couldn't do without it. it's such a brilliant product to have around whether your hair looks a little flat and needs some volume added back into it or simply could do with a boost between washes to make it look a little fresher. I'd love to try the Lush version to see how it compares to others I have tried.
What do you think of my Lush wish list? What is on yours?

Check out these great blogs by my lovely advertisers:
Pink Champagne: Hoad Shoes – An Independent Little Shoe Shop
Pink Panther: Beky Lou, MissLJBeauty, Dulcie's Beauty Blog, Peacock Beauty, A Scottish Lass, Topdraw Fashion, Delabelle's Beauty Blog, Lisahh-Jayne, 
Pink Pearl:, Scottish Stef's Nail, Oh Hello Mango, Tam Loves Tea, Mummy's Beauty Corner
To advertise with Kimberley's Beauty Blog find out more info here