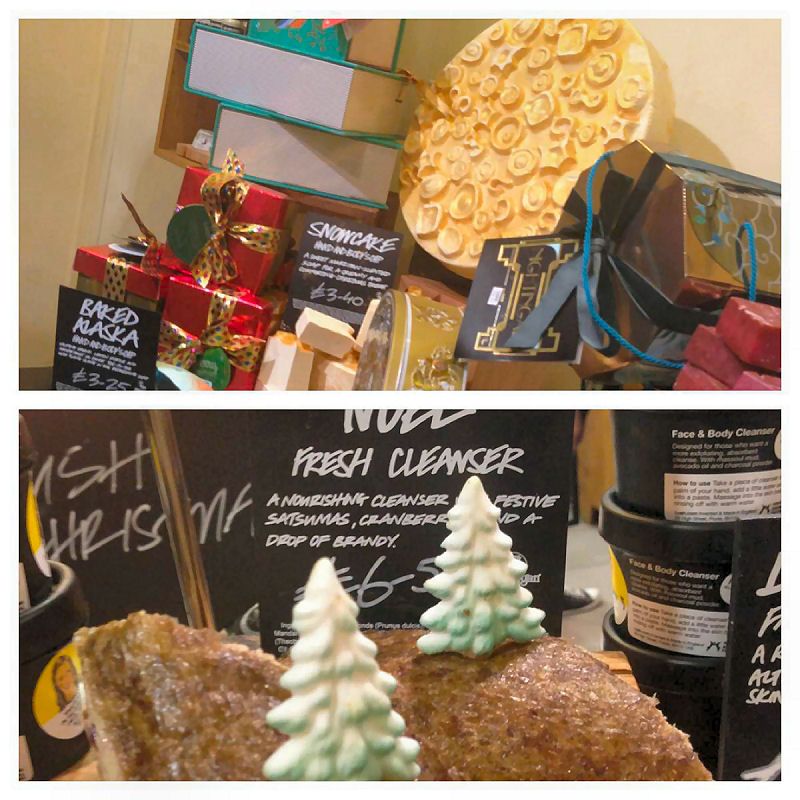 Hello Beauties! As mentioned in yesterday's blog post I was lucky enough to attend the launch of the gorgeous Lush Christmas products in London yesterday.. and I must say it definitely wasn't a let down!
Before arriving at the Lush store on Regent's Street I met up with my friends Rachel and Zoe who are also bloggers and went for a shopping trip and pamper at Selfridges where I bought far too many beautiful things! It was really lovely to have a catch up as I haven't seen either of them for a while so we had lots to talk about!
When we arrived at Lush it was already full of people who were excitedly looking at the products Lush had on offer and after getting some drinks we did the same. It was great to spot some old favourite's such as Snow Fairy Shower Gel (yum!), the creamy and nourishing soap Snowcake and pretty bath bomb Lush Christmas Pud as well as some super exciting newbie products too. I loved the look and smell of the Snow Angel bath melt, was intrigued by the Snowman Jelly and my heart melted at the sight of the cute Christmas penguin. I'm pretty sure I still have one of those from last year as I couldn't bring myself to put him in the bath! haha Of course there were also lots of products also sporting glitter to get people into the festive spirit!
As always the Lush gift sets looked stunning and would definitely look amazing under the Christmas tree. The packaging is so fun and innovative that it would impress your friends and family before they even open it to see what wonderful treats are hidden within. This year Lush have also introduced an incredible advent calendar which priced at £50 is a little on the high side but I think it's worth it. The products in it are gorgeous and what better way to wake up in the lead up to Christmas than with an exciting Lush treat?! I'm very, very tempted to get one!
There were a LOT of amazing products available but if I was to pick a few of the stand out ones they would be:
– Advent Calendar
– Rose Jam and Snow Fairy Shower Gel
– Snow Angel Bath Melt
– Snowman Jelly
– Golden Wonder Bath Bomb
– Christmas Pud Bath Bomb
I'll stop there.. but I could easily name more! haha
I always love the events Lush host because the atmosphere is so fun and relaxed. Without doubt I always discover new products too that aren't event part of the range that are being promoted and coming away being more knowledgeable about the brand and the products they offer. Needless to say I had a wonderful evening and now have a Lush wish list even longer than yesterday's!
What do you think of the Lush Christmas products?

Check out these great blogs by my lovely advertisers:
Pink Champagne: Hoad Shoes – An Independent Little Shoe Shop
Pink Panther: Beky Lou, MissLJBeauty, Dulcie's Beauty Blog,  A Scottish Lass, Topdraw Fashion,, Lisahh-Jayne
Pink Pearl:, Scottish Stef's Nail
To advertise with Kimberley's Beauty Blog find out more info here