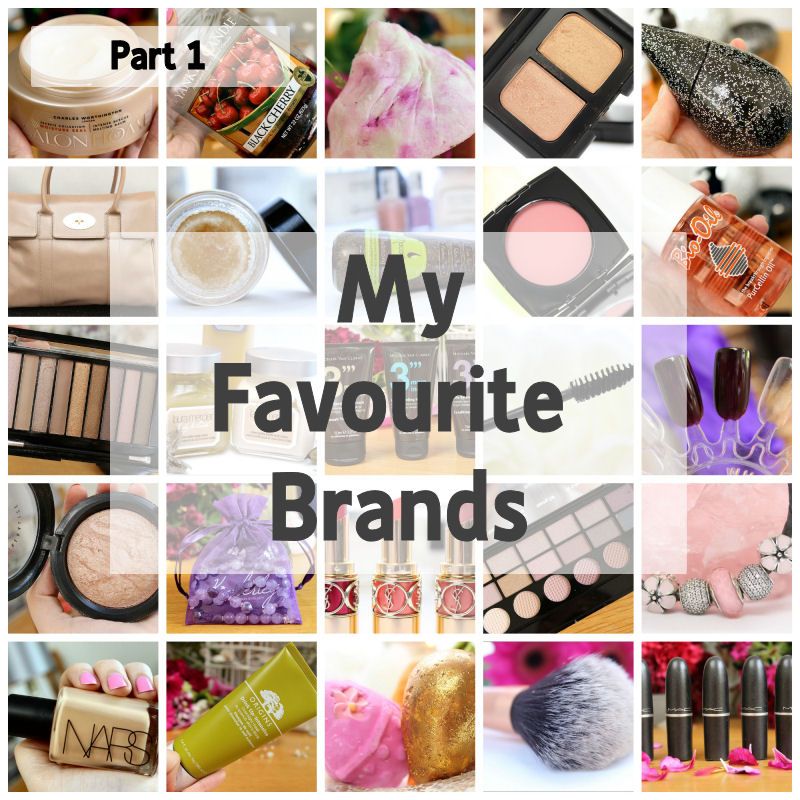 Hello Beauties! Today's blog post is the start of a mini series where I will share my favourite brands with you. I'm going to give you an insight into my 'go to' brands for certain products and why I go back to them time and time again as well as recent discoveries I love. 
This series will include numerous posts so if you want to suggest a specific area please feel free to leave a comment below to request it. I will be talking about a broad range of areas from beauty to fashion to jewellery and candles 🙂
In no particular order, let's get started!
Make-up Brushes
The first area I am looking at are makeup brushes where I definitely have some favourite brands. 
First is Sigma who are top of my list because they offer a huge range of brushes at reasonable prices. The bristles are soft and good quality, the handles comfortable to hold and they come up well after every wash. When I first ordered my Sigma brushes I got them sent over from the US as at that time it worked out much cheaper, however, the delivery costs have now increased so in the future I will order from a UK site such as Beauty Chamber. My favourite Sigma Brush is the F80 which is a flat kabuki and perfect for blending in foundation for a flawless look.
Next on my list are MAC brushes, in particular their eye makeup brushes such as the 217 which is brilliant for blending eyeshadow. Again, the range of brushes is good but I find the quality has deteriorated a little which means some of my brushes, especially my blush one sheds which is a little annoying. Even so, MAC is a well respected brand for brushes and you'll definitely find what you need here.
Last of all are Real Techniques brushes which are a really great drug store alternative to the above. Priced well, these brushes are worth the price tag and are soft so don't irritate my skin. They also recover from cleaning well. The Real Techniques range of brushes is slowly increasing but I'd definitely watch out for the naming conventions on them as I find I often use them for something completely different than they are intended. For example, I use the blush brush for powder as it is large.
Brush Cleaner
This moves on nicely to my next topic, brush cleaner. I haven't tried a lot of different brush cleaners but out of the ones I have there are two that stand out. Firstly, the MAC brush cleaner which leaves my brushes feeling soft and looking as good as new and secondly simple baby shampoo. I tend to use the latter more now as it is much more economical although my brushes do tend to take a little longer to dry.
Bath Products
Next on my list are bath products and there are two stand out brands for me here. The first will be obvious to anyone who follows my blog or Twitter as it is Lush. If you've never been to Lush before because you have been put off the intense smell as you walk up to the shop I would definitely recommend venturing in and buying a couple of products to try. Once they are in a different environment so you can smell them individually they are gorgeous and I don't think you'l be disappointed.
I love Lush because the range of products is huge and they are fun and innovative. When we come up to each season I always look forward to seeing what new products they have on offer and if any of my favourite's are making a re-appearance. I'm yet to find a product I have been disappointed in. 
My favourite Lush products include the bath bombs, shower gels, shampoo bars, bubble bars and soaps.
Another favourite brand of mine for bath products are Laura Mercier as their bath melt is simply divine. It's such a luxurious product I use it with moderation but the whole bathroom is filled with a delicious aroma that lingers on my skin and makes it soft and smooth. My favourite scents are Ambre Vanille and Creme Brule.. yum!
Foundation
I'm going to break down the makeup brands I like into categories as I tend to go to different brands depending on the product. First up are foundations where there are three stand out brands for me, two high end and one drug store.
When it comes to foundation I've never had a preference over high end or drug store but over the years as I've tried more products I guess I've leaned more towards high end simply because those are the products that have worked best with my skin type which is combination – normal.
The foundation I have been using for most of this year has been Nars Sheer Glow. The price tag is high but it blends beautifully over my skin and gives it a healthy yet natural glow which I love. The shade match is perfect and no matter what tool I use the end result is also great. This is my current favourite foundation.
Next is Chanel who have a lot of gorgeous products, one of my favourite's being the foundations. The Vitalumiere Aqua foundation was a favourite of mine for years until I discovered Nars but is very high quality and still a staple in my collection. The formula is very light weight and doesn't make my skin break out. I love it.
Last but not least is the drug store brand Rimmel. When it comes to foundations Rimmel have got it right as they offer a reasonable range of shades with a high quality formulation that isn't too thick or thin. It isn't cakey and is reasonably long lasting so if I'm looking for a foundation that isn't too pricey Rimmel is the place I go. My favourite is Match Perfection.
I hope you liked today post and having a sneaky peak at my favourite brands. I have tried to mix up the topics to make each post a little more interesting and go into some detail so you know why I have chosen each of them. Watch this space for part 2 in the series.
What did you think of part 1 of my favourite brands? What are some of your favourites?

Check out these great blogs by my lovely advertisers:
Pink Champagne: Hoad Shoes – An Independent Little Shoe Shop
Pink Panther: Beky Lou, MissLJBeauty, Dulcie's Beauty Blog,  A Scottish Lass, Topdraw Fashion,, Lisahh-Jayne, The Lucky Diamond
Pink Pearl:, Scottish Stef's Nail
To advertise with Kimberley's Beauty Blog find out more info here