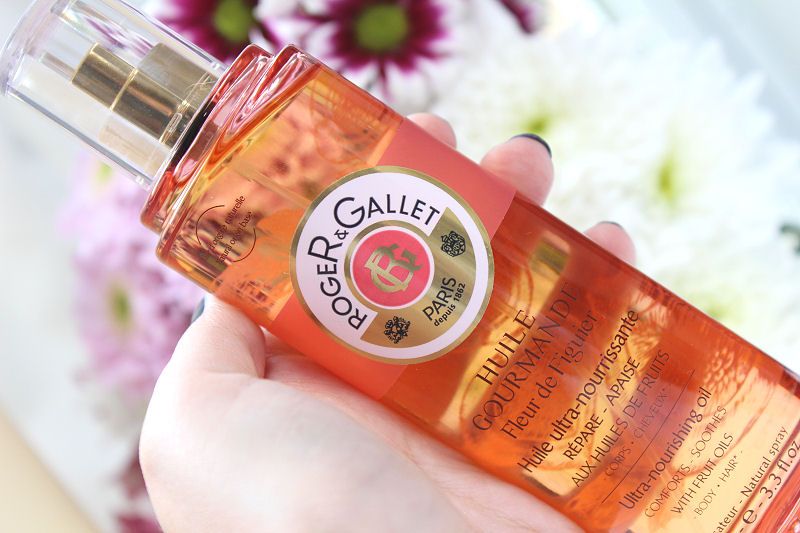 Today's post is all about a product and brand I recently discovered and love. Roger and Gallet was established in 1982 in Paris and started as a perfumery which is definitely evident in the bath and hair *oil product I will be talking about today. The fragrance is like no other oil I have tried and words just cannot do justice to how beautiful this sweet, floral Fleur d'Osmanthus scent is. The rich aroma lingers on my skin for hours after application and it has a very luxurious and expensive feel to it.
As for the oil itself? It's equally as gorgeous. It absorbs into my skin extremely quickly and instantly nourishes and hydrates without feeling the slightest bit greasy or uncomfortable. It also contains some beautiful ingredients including apricot oil which is rich in Omega 6 and powerful antioxidant vitamins A and E, Sesame and Sweet Almond.
What I love about this oil though is that it is multi-purpose. As well as using on your body you can also use it on your hair which leaves it looking and feeling healthy. I apply the oil to my hair when it is damp, just before blow drying it and then add a little more after styling. Each time I only use a small around, less than a pea size which is ample and never apply it to my roots. My hair is left feeling soft, silky and smelling gorgeous.
If you want to try this body and hair oil you can buy it from Essentual for £24.50. There is currently 1/3 off this price too!
What do you think of bath and hair oils? Have you tried this one?

Check out these great blogs by my lovely advertisers:
Pink Champagne: Hoad Shoes – An Independent Little Shoe Shop
Pink Panther: Beky Lou, MissLJBeauty, Dulcie's Beauty Blog,  A Scottish Lass, Topdraw Fashion,, Lisahh-Jayne, The Lucky Diamond
Pink Pearl: Scottish Stef's Nail
To advertise with Kimberley's Beauty Blog find out more info here