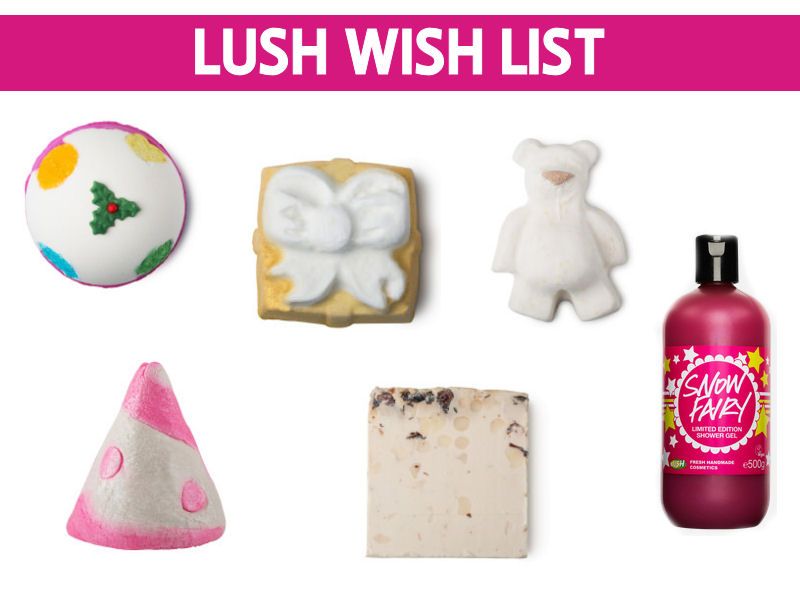 Hello Beauties! On Thursday I am lucky enough to be attending the Christmas product launch for Lush, one of my favourite shops on the highstreet and that has been inspiration for today's wish list. I am yet to see any of the exciting products in store this year and when it comes to holiday's no one does them better than Lush. I love that you can always rely on them to bring back old favourite's such as Snow Fairy Shower Gel at Christmas (yum!) as well as introduce new and innovative products in the mix.
As the last month or so has been crazy busy I haven't been shopping at all (shock, horror) so I have absolutely no idea what suprises are in store until I decided to write this post. Admitedly, I was in two minds whether to wait until Thursday and let it be a suprise but the tempted was too much and here I am looking at the goodies on the Lush website as we speak creating a wish list longer than my arm! I won't feature them all here because the blog post will be far too big but here are some of the top picks. Not all of the products are in the limited edition Christmas range but some of them are so if you like the look of any of them pick them up before they sell out!
Of course also pop back next week to see what I got up to at the event and if you're there too pop over and say hello!
Golden Wonder Bath Bomb | £3.75
This bath bomb was a favourite of mine last year because it has a suprise hidden within it, smells nice and looks like a present.. it's just adorable! As it's pretty big you can even break it in half if you like so you can get two baths out of it rather than one.
Sultana of Soap | £3.40 per 100g
I've only tried two soaps from Lush before, Honey I Shrunk the Kids which is my favourite as I love products that have a honey scent.. this one is just amazing and I could happily smell it all day. The other soap I have tried is a limited edition one at Christmas and is called Snow Cake. It's really soft and creamy so it feels nourishing on the skin which I really like.
The next one I'd like to try, however, is part of the standard range and is called Sultana of Soap. The ingredients in it are unusual but I love the scent so am interested to see how it compares to the others.
It wouldn't be Christmas without a bottle of Snow Fairy sitting in the bathroom. This bright pink shimmery shower gel sports the unique scent of sweet bubble gum and candy floss without being too sickly. I've never come across another shower gel like it and it's definitely a must when it becomes available at Christmas.
Candy Mountain Bubble Bar | £2.75
The main thing that draws me to Candy Mountain is the colour because of course I love a touch of pink! Candy Mountain isn't a bubble bar I have tried before but it looks fun and I think I'd like the scent so I'd love to give it a try.
The Butterbear bath bomb is on my wish list for one simple reason…. it looks adorable! I'm pretty sure this is a brand new product for Christmas as I don't recall having ever seen it before and it's almost too cute to dunk into the bath.. I think this one will end up sitting on the side for a while!
Ah I love, love, love with bath bomb from Lush and was left thoroughly disappointed last year when they sold out so I couldn't stock up. It's multicoloured spots make up a Christmas pudding that remind me of the lights twinkling on a Christmas tree. This bath bomb also sports my favourite honey scent, hence why I'm a fan!
What do you think of my wish list?

Check out these great blogs by my lovely advertisers:
Pink Champagne: Hoad Shoes – An Independent Little Shoe Shop
Pink Panther: Beky Lou, MissLJBeauty, Dulcie's Beauty Blog,  A Scottish Lass, Topdraw Fashion,, Lisahh-Jayne
Pink Pearl:, Scottish Stef's Nail
To advertise with Kimberley's Beauty Blog find out more info here