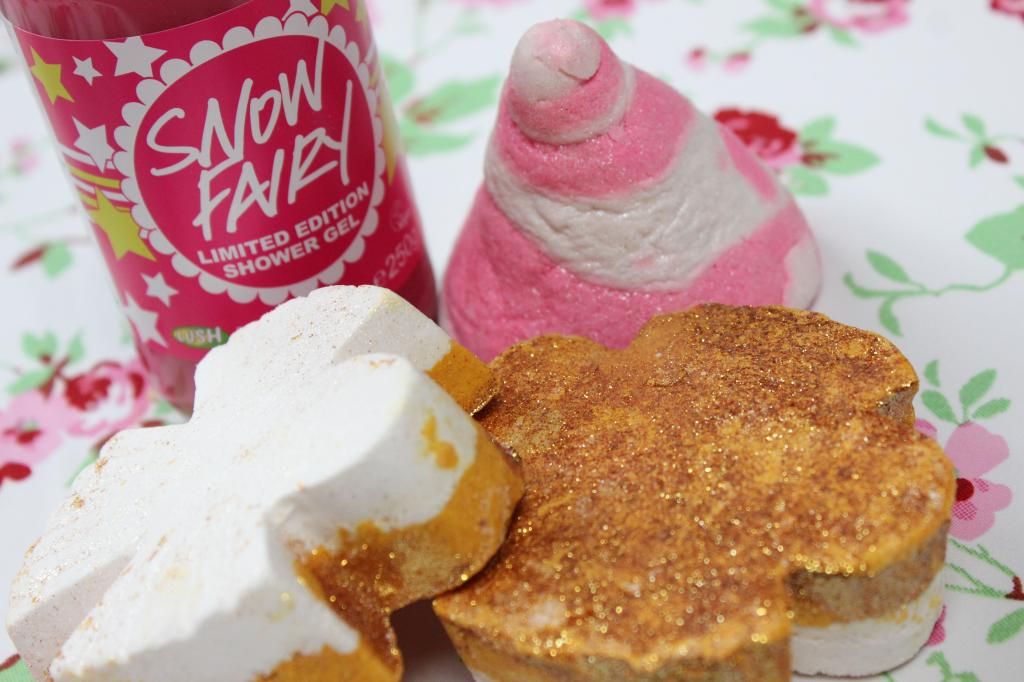 Hello Beauties, how are you all? Last weekend it was my Birthday and I was lucky enough to receive some scrumptious Lush gifts from my Fiance.. he knows me too well! All except one are new products to me so I'm really looking forward to giving them a try as well as enjoy one of my all time favourite's.
The first product I opened was Snow Fairy which is a limited edition Christmas product that I love. This shower gel is bright pink and smells beautifully sweet without being too sickly or overpowering. I always know Christmas is coming up when I've got a bottle of this on the side in my bathroom and I love it!
Next were two bath melts I spotted at a Lush event a month or so ago so I was super pleased to see these. Snow Angel smells absolutely divine.. so clean, creamy and nourishing plus half of it is covered in gold glitter! What more could you possibly want?!
Next was a very pretty swirly white and pink bubble bar named Candy Mountain which also has an added touch of shimmer. It's very pretty and smells just like snow fairy which is obviously right up my street. I'm starting to lean more towards using the Lush bubble bars rather than the bath bomb lately because I love that you can get multiple uses out of them, it makes them much more economical!
Last but not least I got a couple of face masks which I forgot to photograph.. sorry! They were Brazened Honey which smells yummy and doubles up as a great exfoliator and BB Seaweed both of which are great for balancing the skin to try to banish break outs. I've been feeling pretty stressed lately so some pampering with these beauties is definitely needed!
What do you think of my Lush Birthday haul?

Check out these great blogs by my lovely advertisers:
Pink Champagne: Hoad Shoes – An Independent Little Shoe Shop
Pink Panther: Beky Lou, Dulcie's Beauty Blog,  A Scottish Lass, Topdraw Fashion,, Lisahh-Jayne, Tania Michele, Miss Danielle
Pink Pearl:, Scottish Stef's Nail
To advertise with Kimberley's Beauty Blog find out more info here