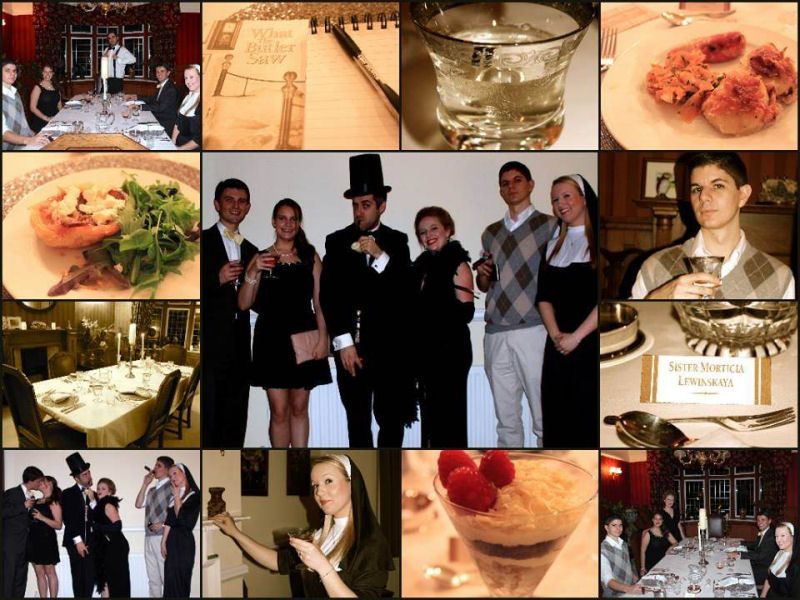 Last weekend was a lot of fun as I went to a murder mystery dinner party for the first time. There were six of us in total who were my Fiance and our closest friends and it was hosted at one of their houses. None of us had taken part it one before but it seemed like a lot of fun and was nice to do something a little different.
A couple of weeks before the evening we were each allocated a character by the host which included a variety of different personalities. I was Agatha Eton-Hogg who was the neice of Sir Douglas Eton-Hogg and recently engaged to Bunny Mandelson (my Fiance played this character which was very fun!). There was also a French lady named Georgette and two American people named Oscar and Sister Morticia who was a nun! We were given a brief description of our characters so we knew what type of person they were, if they had an accent what what type of outfit we needed to style as well as an introduction into the night in question which was set in 1912.
We spent the next couple of weeks preparing our outfits and of course tried to keep it as much of a secret from each other as we could so on the night it would be a total surprise.. which it was! 
As you can see from the photo's everyone had lots of fun and made an effort with their costumes. Throughout the night we tried to stay in character which was hilarious and inbetween a delicious three course meal cooked by one of my bestie's we took part in three rounds of the game where we were given clues and got to quiz each other to try and find out more. At the end we each had to pick who murdered the butler and all was revealed on the tape recorder…
What do you think of a murder mystery dinner?

Check out these great blogs by my lovely advertisers:
Pink Champagne: Hoad Shoes – An Independent Little Shoe Shop
Pink Panther: Beky Lou, Dulcie's Beauty Blog,  A Scottish Lass, Topdraw Fashion,, Lisahh-Jayne, Tania Michele, Miss Daniele, 
Pink Pearl:, Scottish Stef's Nail
To advertise with Kimberley's Beauty Blog find out more info here