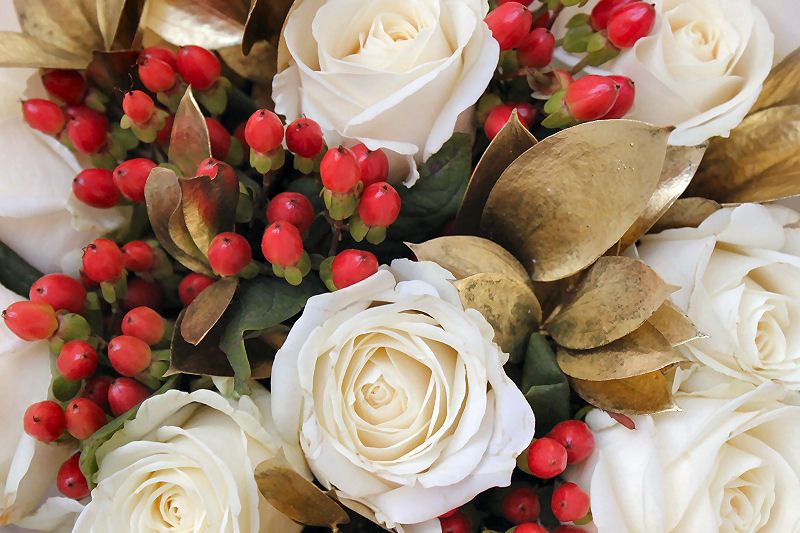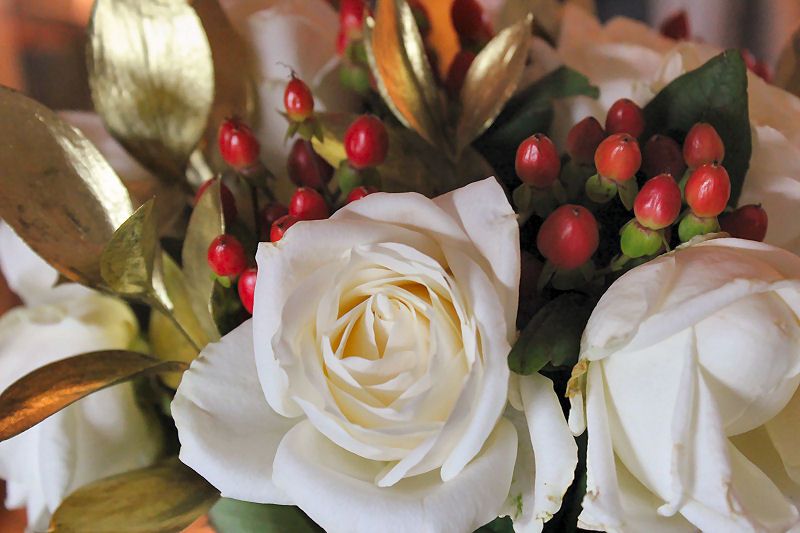 One thing I love to have in the home are fresh flowers so I am often on the look out for some new ones to display. I like having a piece of nature inside, the smell and of course how pretty and delicate they look. I also vary the colours depending on my mood and my latest theme has been fresh white flowers because they are clean and crisp looking. 
The latest bouquet I have had on display in my lounge is by Appleyard London, a company who I only recently came across but one I have been impressed with. They have some gorgeous Christmas bouquets on offer including the gorgeous one pictured here which is called Gold Leaf. It is made up of Avalanche Roses, Berries and Gold Eucalyptus which when combined make a beautiful festive display. I love the combination of colours and textures and it makes a refreshing change to more common bouquets you can get. 
The flowers were delivered to my house and packaged well so they were not damaged during transportation and as soon as I opened the box I could smell the beautiful scent of the roses. When displaying the flowers I decided to to keep them tied as I wanted them to be bunched closely together which worked really well as they filled my vase perfectly. You get a really nice balance in the bouquet which look gorgeous!
As for lasting power? They stayed fresh for a week before the roses started to go a little discoloured but three weeks later the berries and eucalyptus are still going strong!
If you want to buy one of these gorgeous bouquets or check out the other flowers they have on offer take a look at the Appleyard London website here. Prices start from £29.99.
What do you think of my Appleyard London Christmas Bouquet?

Check out these great blogs by my lovely advertisers:
Pink Champagne: Hoad Shoes – An Independent Little Shoe Shop
Pink Panther: Beky Lou, Dulcie's Beauty Blog,  A Scottish Lass, Topdraw Fashion,, Lisahh-Jayne, Tania Michele, Miss Danielle
Pink Pearl:, Scottish Stef's Nail
To advertise with Kimberley's Beauty Blog find out more info here