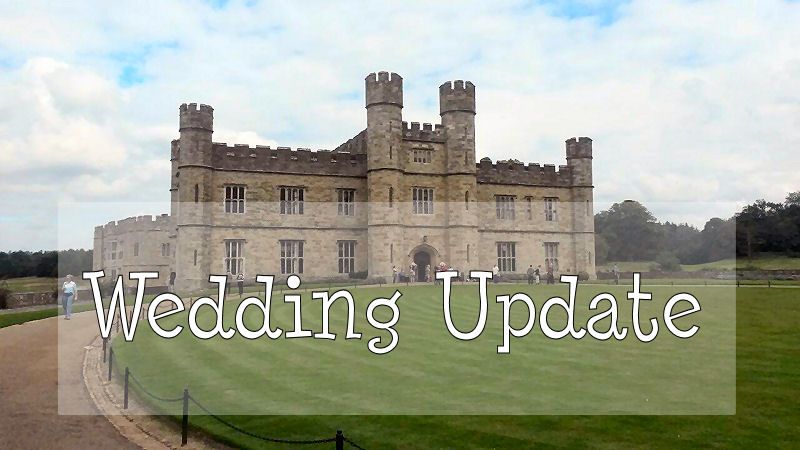 Hello Beauties!
I thought it was about time I gave you a wedding update as a lot has changed since my last one. After spending a lot of time on Google searching for location and visiting countless venues we have finally made out choice and got a date for our wedding… eek! The date is the 19th September 2015 which we chose simply because is was the only date the church we want to get married in and the venue for the reception were available so it must have been meant to be!
We are having the ceremony in a church which is meaningful to both of us and then moving onto a castle for the wedding breakfast and reception which is very exciting! It was so much harder to choose the venues than I thought because it wasn't just down to what we liked, we had to consider options for all our of guests too. For example, the age range is huge, from six month old babies through to my Fiance's 95 year old grandfather so we had to make sure there wasn't much walking involved, parking was close by, there is plenty of seating and quiet areas and the toilets are located close to the rooms. Of course we also have to consider our numbers too which will we have to compromise on a little but it is very hard to find a location that ticks absolutely every box and seeings as there's some people we know definitely won't be able to make it as they live in other countries it should all work out in the end.
Once we had booked the venues we both felt a lot more relax because that is one of the key things to get in place. If you don't have venue's and a date it's impossible to book anything else because those are the first questions everyone asks when you make an enquiry. This didn't stop us from searching around getting ideas though!
The next thing we did was to tell some special people they were to be part of our wonderful day. My Fiance told our brothers they are to be ushers which they were very pleased about and then we moved onto the bridesmaids! We are having four in total, two younger ones (including my neice who is very excited) and two older ones who are my best friends (we've known each other since we were four). They are actually my Maids of Honour. We are also having a page boy who is probably a little older than the norm but will look adorable in his suit.
In the last week or so things have moved along very quickly and we have almost booked all of the major items. The first was the car which I pretty much left up to my dad and Fiance to organise although I did go along to take a look. We wanted to go for an old car so have chosen a lovely vintage Rolls Royce which will look lovely in the photographs and also seats six people so is perfect for transporting our wedding party to the church.
Next we picked our photographer who was a recommendation from a friend. I think this is the best way to go with these types of things because it's far less risky than booking someone at random. This way we won't be worrying about the quality of the photo's or what he's like on the day as we already know!
We have also booked some entertainment for the day but as some of my guests will be reading this I don't want to go into detail here as I want to keep some things a surprise so you'll just have to wait until next year on that one!
What did you think of today's post?

Check out these great blogs by my lovely advertisers:
Pink Champagne: Hoad Shoes – An Independent Little Shoe Shop
Pink Panther: Beky Lou, Dulcie's Beauty Blog,  A Scottish Lass, Topdraw Fashion,, Lisahh-Jayne, Tania Michele, Miss Daniele, 
Pink Pearl:, Scottish Stef's Nail
To advertise with Kimberley's Beauty Blog find out more info here