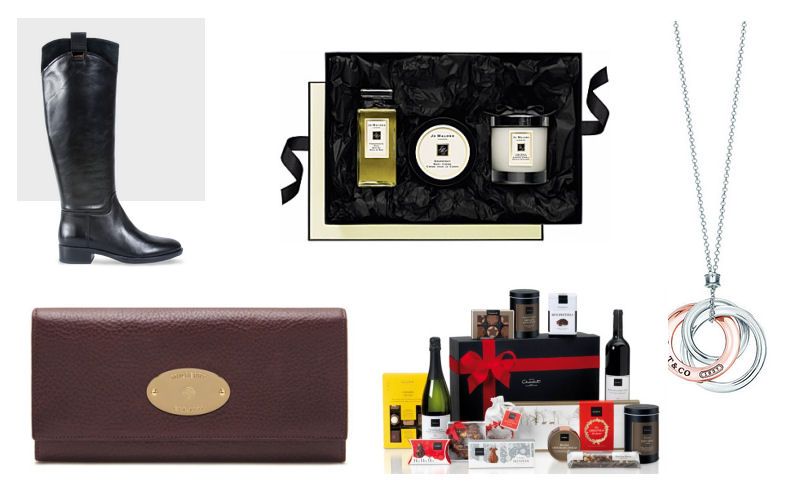 Tiffany Interlocking Circles Pendant | £275 | Link
Mulberry Purse in Oxblood Coloured Natural Leather | £275 | Link
Jo Malone Lush Layering Gift Set | £141 | Link
Geox Felicity Leather Knee High Boots | £165 | Link
The Luxury Christmas Hamper | £150 | Link
Hello Beauties! Over the next couple of weeks I will be writing some blog posts on Christmas gift ideas.. it just wouldn't be the same on my blog without them and I really enjoy putting them together. The first one I have started with is my Luxury Christmas Gift ideas and features a whole range of products. 
I have a soft spot for Mulberry and since buying my bag have had my eye on the purses. I particularly like this oxblood one as it's a little different.. the colour is gorgeous! Next are Geox boots which will keep you nice and toasty during the cold winter weather. I was lucky enough to get these for my Birthday and I love them as they are leather and have a pretty trim at the top to make them unique. The next gift I chose was for all those foodies out there and is a gorgeous hamper by Hotel Chocolate. It includes an assortment of different products and would be a lot of fun to open and rummage through. Next is a stunning necklace from Tiffany which I'm sure any girl would adore if they opened it on Christmas day and last but not least for those who love a bit of pampering a beauty gift set by Jo Malone.
What do you think of my Luxury Christmas Gift List?

Check out these great blogs by my lovely advertisers:
Pink Champagne: Hoad Shoes – An Independent Little Shoe Shop
Pink Panther: Beky Lou, Dulcie's Beauty Blog,  A Scottish Lass, Topdraw Fashion,, Lisahh-Jayne, Tania Michele, Miss Danielle
Pink Pearl:, Scottish Stef's Nail
To advertise with Kimberley's Beauty Blog find out more info here