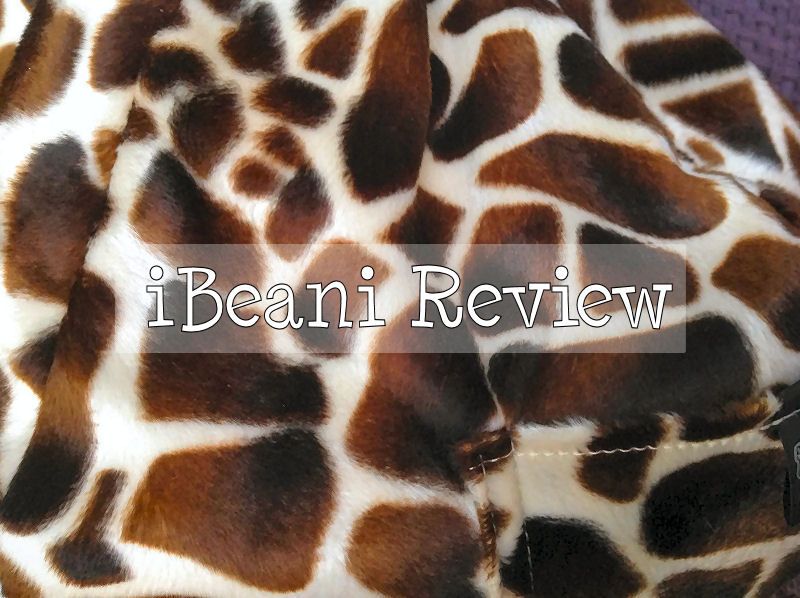 I don't know about you but when I get in from a hectic day at work besides having a relaxing bubble bath I love to snuggle on the sofa or in bed with my ipad and watch You Tube videos or catch up TV. There's nothing better than being able to totally zone out and watch one of your favourite vloggers and before you know it you've often lost several hours where you've been so absorbed in it.. that happens to me anyway.
Up until recently I had to hold my tablet (a large ipad) or in the bed prop it up on pillows which was okay but a bit of a pain having to move everything around and trying to get the position right. Now, however I use this simple but very useful tool called an *iBeani cushion which is a lot better!
The iBeani is quite simply a small bean bag which is available in a variety of fabrics and designs ranging from giraffe animal print like the one above to plain and faux leather.  The concept is simple but works extremely well because the individual beans move so the tablet is propped up exactly where you need it and doesn't move. This stand is also suitable for both small and large tablets and even sports a cute little pocket at the front which can be used to store small items.
Of course you don't just have to be use it when watching You Tube, you can also use it as a slanted table when generally surfing the web or using some of your apps. As the iBeani is also lightweight it would also work well during plane or car journeys and won't be too heavy to carry around, especially as it has a handle too.
If you want to purchase an adorable iBeani cushion for yourself check out the website here. Prices start at £24.99 and are worth every penny! I use mine pretty much every day!
What do you think of this product?

Check out these great blogs by my lovely advertisers:
Pink Champagne: Hoad Shoes – An Independent Little Shoe Shop
Pink Panther: Beky Lou, Dulcie's Beauty Blog,  A Scottish Lass, Topdraw Fashion,, Lisahh-Jayne, Tania Michele, Miss Danielle
Pink Pearl:, Scottish Stef's Nail
To advertise with Kimberley's Beauty Blog find out more info here