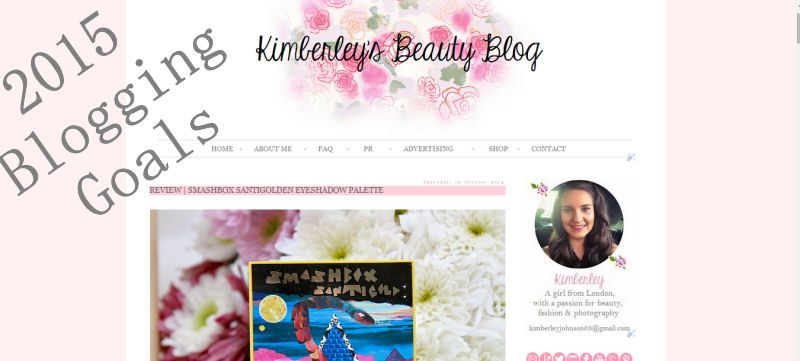 A new year equals a new start and it's got me thinking about my blogging goals for 2015. There's quite a few things I would like to achieve and change, some of which will take a while and lots of organisation but I hope to review the items on this list throughout the year to see how I'm getting on and hopefully by this time next year I will be able to tick each and every one of them off my list! Only time will tell.
1. Regular Blogging Routine
Without fail I used to blog daily which I absolutely loved. I would write up all my posts in bulk over the weekend and schedule them and found it pretty easy to stay on top of things until I got engaged. Planning a wedding on top of blogging and having a full time job has turned out to be a very challenging task and has completely distorted the way I do things. This year I hope to establish a new blogging routine so my readers know when to pop by to see new posts. I aim to post on Mondays, Wednesday and Friday as a minimum but may also through in some extra posts if and when I have time to (like I have this week). Eventually I want to get back into blogging daily but that really depends on how wedding preparations go.
2. Interaction
I want to start interacting with my readers more. I used to regularly reply to blog comments and emails but I've found lately for the same reasons as above I've been finding it harder and harder to find time to. I always read every comment left, they mean so much to me but I don't always get time to reply as much as I like and I want this to change.
I also want to find the time to comment on other people's blogs more. I used to look at them ALL the time but again due to time and not being well I haven't had a chance to. I miss it!
3. Tutorials
I'd quite like to introduce some tutorials to my blog for hair and makeup. Watch this space!
4. Tags
I'll be completely honest here… the tags are all over the place. I need to go through every post (which is nearly 600 eek) and reduce the amount of tags I use. For the past year I have kept it very concise but there are still others floating around that I want to remove. If anyone knows of a quicker way to do this please let me know!
5. SEO
SEO is a major part of blogging and an area where I think you can constantly improve. I plan to do this a lot in 2015 and will no doubt write some blog posts about it too.
6. Page Views and Followers
I'd like to increase the page views and followers on my blog and across my social media such as twitter, instagram and Pinterest. I don't have a particular number in mind but it's a good way to gauge how people react to blog posts and you blog on general so I'd like to reach a wider audience if possible.
7. Guest Posts
I'm still not 100% sure on this one but I'd possibly like to start introducing the occasional guest post on my blog.
8. You Tube
I loved doing You Tube last year but when my Tripod broke I struggled to do it but guess what?! I got a new tripod for Christmas so will definitely start filming again soon!
9. Product Directory
This one will be really time consuming but is something I've wanted to do for a while – create a product directory on my blog. 
What are your 2015 blogging goals?

Check out these great blogs by my lovely advertisers:
Pink Champagne: Beky Lou
Pink Panther: Dulcie's Beauty Blog,  A Scottish Lass, Topdraw Fashion,, Lisahh-Jayne, Tania Michele, Miss Danielle
Pink Pearl:, Scottish Stef's Nail
To advertise with Kimberley's Beauty Blog find out more info here