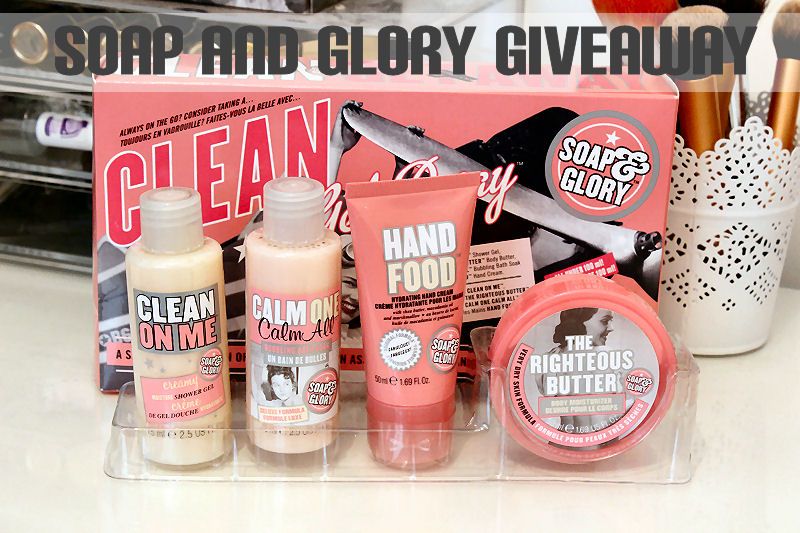 Hello Beauties! It has been a while since I ran a giveaway so I thought what better way to start the year than by giving something back to my readers. This time I have chosen a gift set by one of my favourite high street brands, Soap and Glory which is called Clean Get Away
This adorable little set includes four miniatures which are all products I'm a fan of. They are:
Clean On Me Shower GelHand FoodThe Righteous ButterCalm One Calm All Bubbling Bath Soak
If you want to read a little more Soap and Glory products type Soap and Glory into the search bar on the right (scroll down a little) and you'll be able to find my blog posts all about them. This is a brand I have loved for years and I love that I get to share some of their products with you too.
For your change to win this gorgeous Soap and Glory gift set please enter using the Rafflecopter below. There are a couple of mandatory options but most of them are optional for additional entries… the more you enter the bigger your change to win.
Good Luck!
a Rafflecopter giveaway//widget-prime.rafflecopter.com/launch.js
Important Information
– The giveaway will run from 13th January 2015 – 6th Feb 2015 and is open internationally.
– The winner will be emailed and/or announced in a blog post. The winner will have 28 days to claim their prize.  If I do not hear from them within this time frame a new winner will be picked. If the winner has not entered all of the entries they have claimed to, all of their entries will be discounted and a new winner will be picked.
– If you are under the age of 18 please seek parental permission before entering.
– I will not be held liable for any allergic reactions you may have to the products
– The prize will be posted 2nd Class standard delivery to the UK/untracked internationally. I will not be liable for any loss or damage but will make sure the prize is packaged well.  If you want to pay the additional fee for recorded delivery you are welcome to do so.

Good Luck!

Check out these great blogs by my lovely advertisers:
Pink Champagne: Beky Lou
Pink Panther: Dulcie's Beauty Blog,  A Scottish Lass, Topdraw Fashion,, Lisahh-Jayne, Tania Michele, Miss Danielle
Pink Pearl:, Scottish Stef's Nail
To advertise with Kimberley's Beauty Blog find out more info here