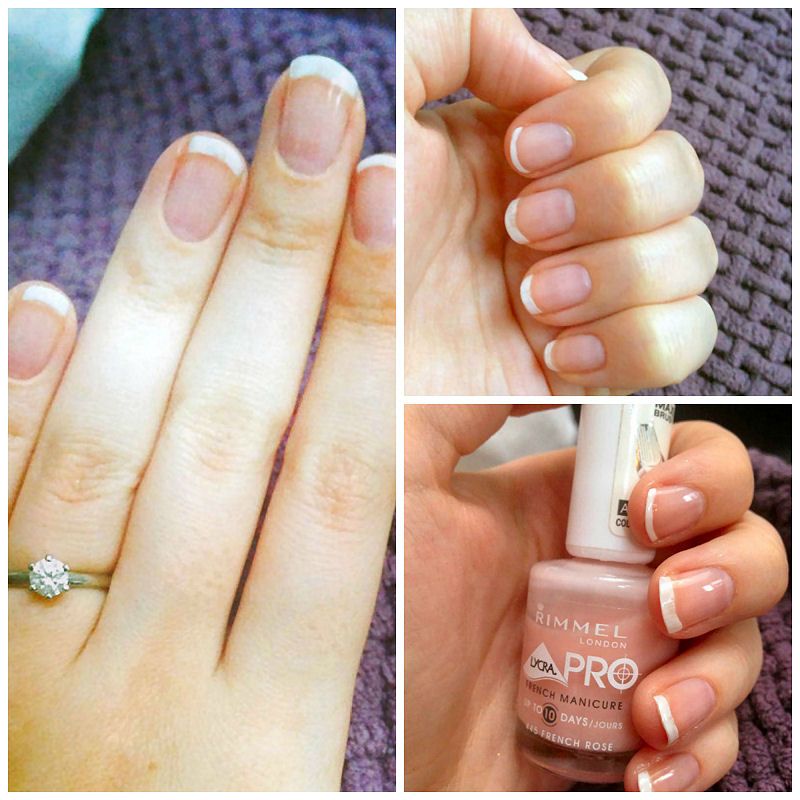 [The photos were taken on my phone hence why the quality isn't quite as good]
When it comes to painting your nails you can't beat the classic French Manicure. It's my absolute favourite so I decided to take some time painting my nails like this to celebrate the New Year. All you need to achieve this look are:
– Clear Base Coat (I used Rimmel)
– Clear Top Coat (I used Barry M)
– White polish for the tips (I used Rimmel Nail Tip Whitener)
– Light pink polish (I used Rimmel French Rose)
I guess everyone's technique may be slightly different and if you're not too confident with getting a nice curve on the white tip don't give up, it just takes practice and you can also get stencils to help with as a guide although personally I find it easier without these as they can peel the polish off at the edges if you don't wait long enough for it to dry.
Anyway, getting onto my technique, I firstly use a simple base coat to protect my nails and also allow the other polishes to apply better. I then move onto the tips. One by one I move long each nail and paint the tip of it white following the natural curve. This is much easier if you file your nails down before hand so they are even as you can use your natural nails as a guide. The Rimmel nail polish is a nice bright white which makes you nails look healthy and it applies nicely. 1-2 coats is plenty as the formula is quite thick and doesn't streak, however, I do find it chips pretty easily.
Once my white tips have dried I simply do one coat of the pink over the whole nail, add top coat and I'm done. I like to do the pink last as this way I can re-do any of the white tips I'm not happy with without having to start the whole thing again. I also think it looks more blended and natural than painting the white over the top but each to their own.
The French Rose pink by Rimmel is a very pretty, natural pink but again it chips quite easily so my nails only usually last two days max without chipping which isn't great. I'm definitely on the look out for some alternatives which are longer lasting but similar shades.
What do you think of my French Manicure?

Check out these great blogs by my lovely advertisers:
Pink Champagne: Beky Lou
Pink Panther: Dulcie's Beauty Blog,  A Scottish Lass, Topdraw Fashion,, Lisahh-Jayne, Tania Michele, Miss Danielle
Pink Pearl:, Scottish Stef's Nail
To advertise with Kimberley's Beauty Blog find out more info here