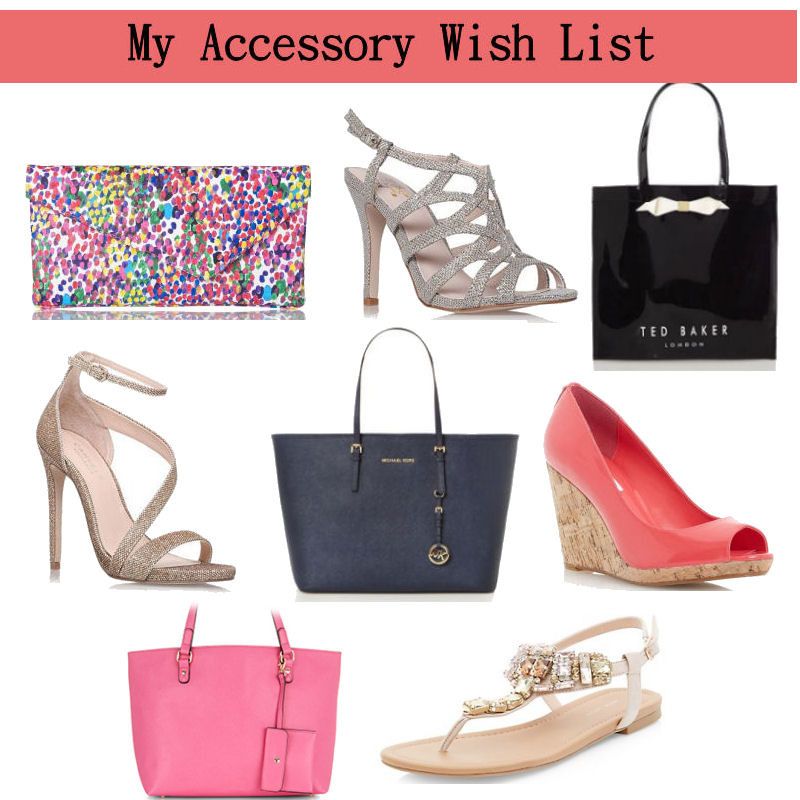 Carvela Gosh High Heel Sandals | House of Fraser | £110.00 (now £79.00)
Miss KJ Gertrude High Heel Sandals | House of Fraser | £65.00 (now £45.00)
Ted Baker Black Large Bowcon Tote Bag | House of Fraser £39.00 (now £34.00)
Michael Kors Jet Set Travel Medium Tote Bag | House of Fraser | £260
Dune Celia Leather Peeptoe Wedge Court Shoes | House of Fraser | £59.00
L.K. Bennett Leonie Asymmeric Clutch | House of Fraser | £195.00
Gold Gen Embellished T-Bar Sandals | New Look | £24.99
Mini Isabella Winged Tote Bag | Accessorize | £25.00
It's no secret I'm addicted to accessories, particularly shoes and handbags so there's always some of these I have my eye on. I wanted to share my current wish list with you which includes a gorgeous selection of products from House of Fraser, New Look and Accessorize. Let me know your favourite below!
The first shoes I am loving are the stunning Carvela Gosh High Heel Sandals. These are very elegant due to the pretty delicate straps which cover the front of the foot as well as the top at a unique slant. These shoes are perfect for adding subtle bling to an outfit and would go with a multitude of different outfits as they are gold.  At 4.7 inches they may not be for everyone but I'm definitely in love.
The second pair of shoes I've got my eye one funnily enough are also gold (I seem to be drawn to the colour at the moment) but look completely different. The Miss KG Gertrude Sandals are a lot more detailed as they have an intricate criss-cross design with the straps that go over the foot. This design really makes a change to your average strappy shoe and it would look lovely with dresses, skirts and jeans. The heel of these shoes are 4 inches.
Next is a gorgeous black bag by Ted Baker which I was drawn to firstly because of the bow design. I've seen this on lots of products by this brand and I really like it because it's pretty and feminine. I'm also a fan of the high gloss jet black finish of this bag because it's totally different to any other bag in my collection and it's a good size so I could fit plenty of my possessions in it.. probably far too many than I should be carrying around!
Michael Kors is definitely one of my favourite handbag designers and this gorgeous tote has caught my eye.  Surprisingly I haven't got any navy handbags in my collection and when I spotted this one I thought it was a refreshing change to the many black and brown variations I have. The tote is also such a versatile, classic shape it is something that can easily be used for years without becoming outdated. 
The last pair of shoes on my wish list are the Dune Celia Leather Peeptoe Wedge Court Shoes which are perfect for the Spring and Summer. The combination of bubblegum pink with the cork wedge works really well and these would look great with white jeans or pretty Summer dresses. I think these may be my favourite item on my wish list!
The clutch bag on my wish list is the L.K Bennett Leonie Asymmeric Clutch bag which is simply adorable. I really like the combination of different colours and I think it would look really great when teamed with a simple little black dress and heels. As well as the polka dot design the opening flap of this bag is really unique as it is at a slant and makes this product more fun and interesting.
As we are approaching Spring and Summer I have had my eye on sandals and this pair from New Look are very pretty. They are Gold Gem Embellished T-Bar sandals which have lots of detailing and are just perfect to wear on holiday, casually at home or dress add a little bling to an outfit. I'd love to get these for my honeymoon.
Being a big fan of pink, you won't be surprised to see a pink bag on my accessory wish list. This gorgeous bubble gum pink Mini Isabella Winged Tote by Accessorize is such a gorgeous shade it would really make an outfit pop. I could imagine teaming it with white jeans and a white or floral top plus the T-Bar sandals above, it would look lovely.  The finish of this bag is leather look with metallic details and detachable card holder.
*sp
To view more shoes and handbags which are available take a look at their website.
What do you think of my accessories wish list?

Check out these great blogs by my lovely advertisers:
Pink Champagne: Beky Lou
Pink Panther: Dulcie's Beauty Blog,  A Scottish Lass, Topdraw Fashion, Lady Brunette, Beauty and The Business, Glitter Buzz Style
Pink Pearl:, Scottish Stef's Nails, Michael 84, Just Ems
To advertise with Kimberley's Beauty Blog find out more info here