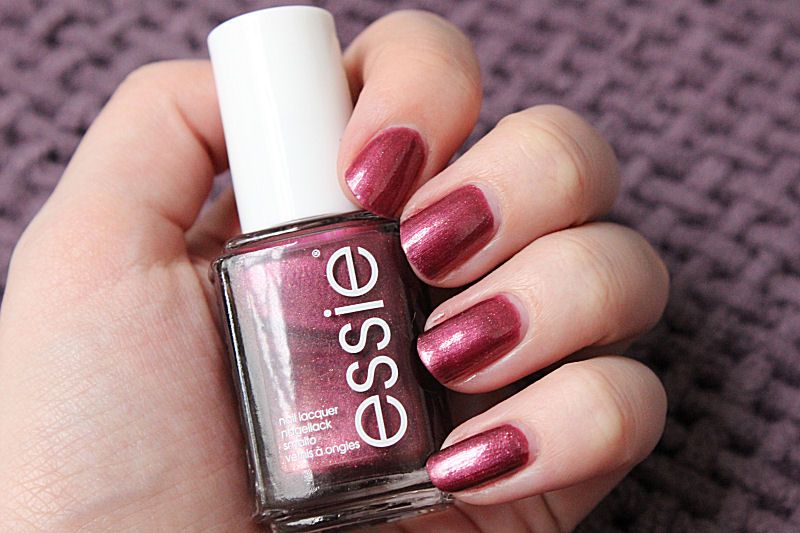 When I was re-organising my makeup collection last month I came across some nail polishes I forgot I had and one of these is this beautifully rich shade It's Genius which is by Essie. I was so excited when I saw it because even in the bottle it looks lovely and I couldn't wait to apply it. In fact, I did that same afternoon.
Essie polishes are one of my favourite brands of nail polish because they have a huge range available, most of the formula's are consistent so you know what you're getting when you purchase a new one and the price is reasonable. It's always fun scanning the shelves in Boots or Superdrug to find a hidden gem and this shade is definitely one of those.
It's a Genius is is a stunning violet quartz which has rich berry tones and a subtle shimmer running through it. The formula is smooth and you can easily achieve a flawless finish with just two coats. When combined with base and top coat this shades lasts around 5-6 days without chipping and is very wearable throughout the year but particularly in Autumn and Winter when this type of shade is most popular.
Since re-discovering this polish I have worn it a lot. Instead of switching my polishes weekly like normal I have just reapplied this one and wherever I go someone seems to comment on it. This shade is definitely a winner from Essie.
Essie It's a Genius is available at Boots for £7.99.
What do you think of Essie It's Genius?

Check out these great blogs by my lovely advertisers:
Pink Champagne: Beky Lou
Pink Panther: Dulcie's Beauty Blog,  A Scottish Lass, Topdraw Fashion, Lady Brunette, Beauty and The Business, Glitter Buzz Style
Pink Pearl:, Scottish Stef's Nails, Michael 84, Just Ems
To advertise with Kimberley's Beauty Blog find out more info here